Mailbox Monday is hosted by The Printed Page and is where we share all the books we received in the mail over the past week. I, personally, am no longer going to include books I receive for review, since they're already covered in their individual New Book Arrival posts.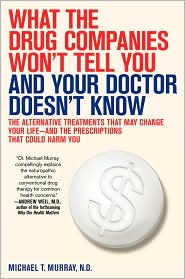 This provocative book illustrates how the pharmaceutical industry has created our health care crisis and tells you what to do to improve your health.

Won from Here and There.


















"I'm Not The Man I Used To Be!"

If only Gracie Broussard could believe that! Years ago, Carter Alexander broke her heart and betrayed her. Now, just when she needs him most, he's back--asking her to believe he's changed. But this time, it's not just Gracie who'll be hurt if he disappears. A penguin keeper, Gracie urgently needs to find a new home for her beloved birds. Carter is the only one who can help. He promises that she can trust him, that he's not the rebel he once was. And that he needs Gracie as much as her birds do.

Received from BookMooch for my aunt.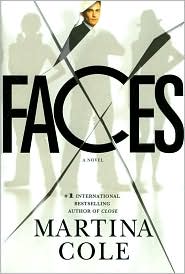 From international bestselling author Martina Cole comes a gritty, gripping, and utterly unforgettable new novel set in the heart of London's criminal gangland.


Just before Danny Cadogan's fourteenth birthday, his father leaves. Having drunkenly run up a gambling debt he cannot pay, Big Dan Cadogan takes the wrath of the men sent to collect the debt. Determined to protect his mother, brother and sister, something changes in Danny and, overnight, he turns into a young man set on making his way in a violent and dangerous world.

And so, with his childhood friend, Michael Miles, providing the brains behind the operation, Danny Cadogan becomes a Face. Not just a Face, but the most feared Face in the Smoke. Out for all he can get. At any cost.

But Danny's ruthlessness on the streets of London doesn't stop at his front door. He rules his wife, Mary, and children with an iron will — and his fists. But if Mary breaks her silence, it could shake Danny's criminal empire; right to the very core. And for a Face at the top of his game, there's only one way to go. Down. Because, after all, debts can be paid even without money.

Won from Sweeps4Bloggers.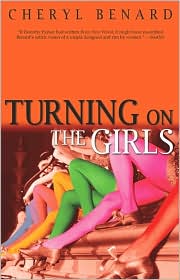 Lisa's having a hard time getting turned on, and when your job is to spearhead the Ministry of Thought's effort to find more appropriate sexual fantasies for women, that's a problem. Now that women have taken over the world, you see, the old lovesick, masochistic fantasies don't cut it; everything from The Story of O to romance novels leaves post-revolutionary women like Lisa cold.

Things with Brett, her SR (for Significant Relationship -- "boyfriend" is so pre-revolution), aren't exactly heating up either. And Justin, her new assistant...well, he's cute, but he's yet to complete his reeducation. In fact, his "nurturing competency" level is so low he's been assigned an ugly dog named Mac as part of his training.

Bonded in their quest to figure out how best to arouse women, Lisa and Justin soon find themselves plucked from the ranks of the Ministry for an altogether different mission, one that will land them in Zone Six -- home to socially irredeemable men -- right smack in the middle of a counterrevolutionary uprising.

For a friend abroad.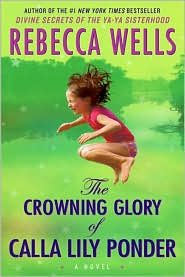 Known for her beloved Ya-Ya books (Divine Secrets of the Ya-Ya Sisterhood, Little Altars Everywhere, and Ya-Yas in Bloom), Rebecca Wells has helped women name, claim, and celebrate their shared sisterhood for over a decade. Divine Secrets of the Ya-Ya Sisterhood held the top of the New York Times bestseller list for sixty-eight weeks, became a knockout feature film, sold more than 5 million copies, and inspired the creation of Ya-Ya clubs worldwide.

Now Wells debuts an entirely new cast of characters in this shining stand-alone novel about the pull of first love, the power of life, and the human heart's vast capacity for healing.

The Crowning Glory of Calla Lily Ponder is the sweet, sexy, funny journey of Calla Lily's life set in Wells's expanding fictional Louisiana landscape. In the small river town of La Luna, Calla bursts into being, a force of nature as luminous as the flower she is named for. Under the loving light of the Moon Lady, the feminine force that will guide and protect her throughout her life, Calla enjoys a blissful childhood—until it is cut short. Her mother, M'Dear, a woman of rapture and love, teaches Calla compassion, and passes on to her the art of healing through the humble womanly art of "fixing hair." At her mother's side, Calla further learns that this same touch of hands on the human body can quiet her own soul. It is also on the banks of the La Luna River that Calla encounters sweet, succulent first love, with a boy named Tuck.

But when Tuck leaves Calla with a broken heart, she transforms hurt into inspiration and heads for the wild and colorful city of New Orleans to study at L'AcadÉmie de BeautÉ de Crescent.In that extravagant big river city, she finds her destiny—and comes to understand fully the power of her "healing hands" to change lives and soothe pain, including her own. When Tuck reappears years later, he presents her with an offer that is colored by the memories of lost love. But who knows how Cally Lily, a "daughter of the Moon Lady," will respond?

A tale of family and friendship, tragedy and triumph, loss and love, The Crowning Glory of Calla Lily Ponder features the warmth, humor, soul, and wonder that have made Wells one of today's most cherished writers, and gives us an unforgettable new heroine to treasure.

Won from Bookin With Bingo.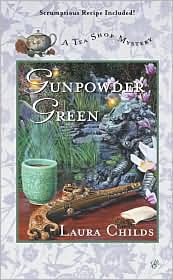 In this second Tea Shop Mystery, shop owner Theodosia Browning knows that something's brewing in the high society of Charleston: murder.

For a friend abroad.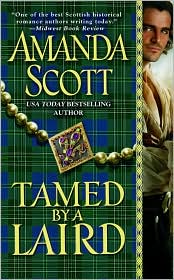 National bestselling author Amanda Scott sweeps readers back to the turbulent fourteenth-century Scottish Borders, where valiant men and women risk everything for their land. Jenny Easdale is ready to accept her fate. She's agreed to marry a man she will never love - yet not before slipping away for one last adventure. Following a traveling minstrel troupe, she's whisked into a world of intoxicating freedom. Then, all too soon, she finds herself in danger - from a vengeful political plot against Scotland and from the man who has come to take her home. Dutybound to return with his brother's wayward bride, Sir High Douglas is not prepared for how her quick wit, courage, and laughing eyes touch his warrior heart. Now, as the merry minstrels play matchmaker and passion sparks between Hugh and Jenny, the conspiracy against Scotland builds...and threatens all they hold dear.

Won from Bookin With Bingo.