There's nothing like the smell of freshly baked bread to fill a kitchen with warmth, eager appetites, and endless praise for the baker who took on such a time-consuming task. Now, you can fill your kitchen with the irresistible aromas of a French bakery every day with just five minutes of active preparation time, and Artisan Bread in Five Minutes a Day will show you how.
Coauthors Jeff Hertzberg and Zoë François prove that bread baking can be easier than a trip to the bakery. Their method is quick and simple, bringing forth scrumptious perfection in each loaf. Delectable creations will emerge straight from your own oven as warm, indulgent masterpieces that you can finally make for yourself. In exchange for a mere five minutes of your time, your breads will rival those of the finest bakers in the world.
With nearly 100 recipes to put this ingenious technique to use, Artisan Bread in Five Minutes a Day will open the eyes of any potential baker who has sworn off homemade bread as simply too much work. Crusty baguettes, mouth-watering pizzas, hearty sandwich loaves, and even buttery pastries can easily become part of your own personal menu, and this innovative book will teach you everything you need to know.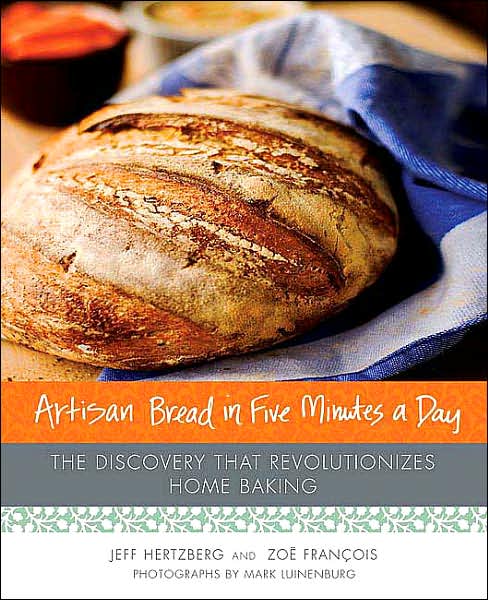 This was filled with all sorts of great recipes, most of which I probably will never try, for yummy varieties of bread. I did, however, write down a few, including the "Master Recipe" for French boule. Yum!
This was my first attempt at the boule from the Master Recipe. I made the slashes on top a bit deep so it looked rather odd after it came out of the oven, but it tasted yummy!
I've since made several loaves at once, using the full Master Recipe which makes 4 one pound loaves at a time. I make up the entire recipe in the stand mixer (I'm
so
not mixing that by hand!), let it rise in my giant Tupperware bowl, and bake them two by two for 25 minutes, then cool completely on a rack and put them in zip top bags in the freezer. When I want a loaf for dinner I just take the loaf out of the freezer in the morning, let it thaw all day on the counter, and then put it in the toaster oven for 5 to 10 minutes on 450 to warm it up and get a lovely crunchy crust. One loaf is about the perfect size for two bread lovers to consume with dinner, or four less enthusiastic diners. :) Needless to say, I'm a half a loaf girl.
So, this is enthusiastically recommended for anyone who loves bread and wants fresh bread but doesn't want to have to knead for ages, wear out their stand mixer's motor, or buy a bread machine. The Master Recipe is super easy and yummy and takes barely any hands on time at all.