Bestselling author Dean Koontz says that his dog, Trixie, changed his life and made him a better, happier person. A 68-pound dog who lived close to the ground, Trixie certainly did cast a long shadow. She first became known outside of her own house (doghouse, that is) as a guest blogger on Dean's website, signing off every entry Life is Good, Bliss to You. Now, in this warm and funny book -- as told to Dean Koontz -- Trixie once again shares her inspiring outlook on life and reveals the eight steps that anyone can take to achieve not merely happiness, but bliss. Packed with dog wisdom, both poignant and funny, this charming and heartfelt book gives the listener much food for thought -- which might not be as tasty as a bowl of kibble but is nonetheless nourishing. Bliss to You!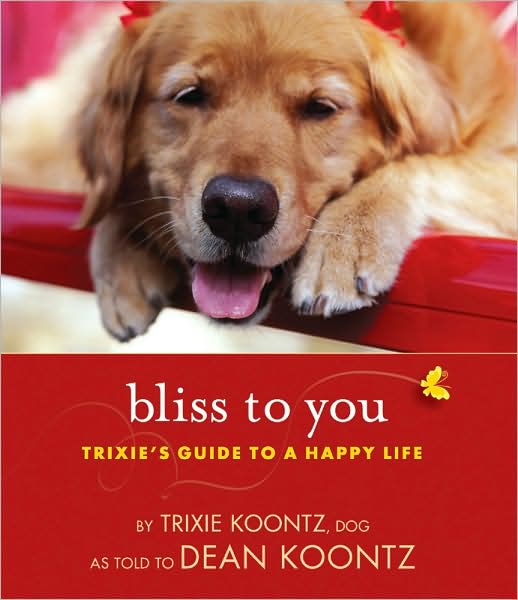 This was my first Trixie book, even though she's done two others, and it was absolutely adorable! I found myself smiling as I read each page.
The forward by Dean Koontz was incredibly beautiful! You can just tell how much he loved Trixie!
This one gets eight stars, even though I am a cat lover. It was completely adorable and would make an excellent gift for any dog lover, or a nice, warm, fast read for yourself. And, of course, Dean Koontz fans will love it!
Rating: ★★★★★★★★☆☆