The rugged landscape of Scotland occasionally attracts dreamers who move north, wrapped in fantasies of enjoying the simple life. They usually don't last, defeated by the climate or by inhospitable locals. But it looks as if Effie Garrand has come to stay. When local constable Hamish Macbeth calls on her after a particularly hideous winter, he is amazed to find the small woman still in residence. Unfortunately, Effie is also quite delusional, having convinced herself – and everyone else – that local artist Jock Fleming is in love with her, and that they are engaged. After a huge fight with Jock, Effie is found in the mountains, poisoned by hemlock. Now, it's up to Hamish Macbeth to find the dreamer's killer – before any more nightmares unfold.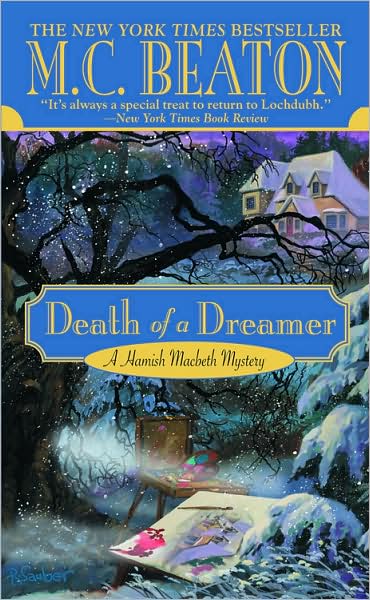 This was the unabridged audiobook on CD edition (5 CDs/5.25 hours).
My favorite quote of the book was from Priscilla talking to Hamish:
"It's a new one for you Hamish. You see, I don't think you've come across someone so completely amoral as Jock Fleming before. It is my opinion he would screw the cat."
It was nice to see Elspeth again and I love Hamish's animals! Priscilla, not so much. She is as bad, or worse, than Agatha Raisin's James!
This one gets seven stars. It was one busy novel, with lots of cross stories. I actually figured out the
who
on this one, but not they
why
. The
why
was really quite interesting! Graeme Malcolm did a very nice job, as always, with the reading.
Rating: ★★★★★★★☆☆☆