A supportive guide to approaching writing as a sacred art and to discovering spirituality through the process of writing.

In this inspiring guide, writing teacher and anthropologist Jepson draws on her worldwide travels and studies of spiritual traditions to present a refreshing approach to the art of writing. Through rituals, exercises, dream analysis, and more, writers will find fresh techniques for honing their skills, overcoming creative blocks, and finding their authentic voices, while writing bravely, honestly, and with true vision.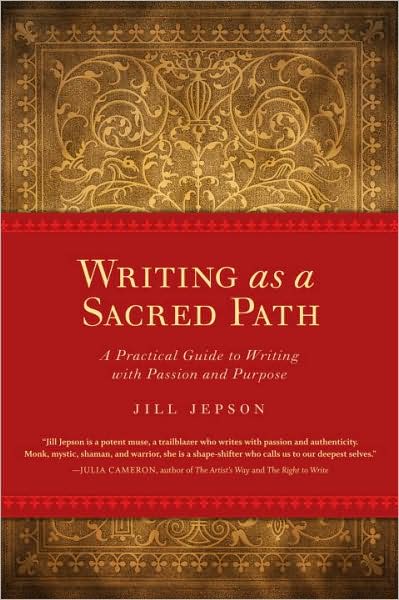 Received from the author for review.
There were some lovely quotes from the book that I'd like to share:
"Here is a shocking truth: few people write because it is fun."
"What is so threatening about writing? Many things are. You face the blank page knowing only you can fill it - and only if you slice into your soul. You open the deepest regions of your heart to strangers who have no reason to care. You offer the fruits of your labor, love, and struggle to agents, editors, publishers, and reviewers who will often tell you it is unworthy, feeble, pathetic. You ask those agents, editors, and publishers to risk their careers for your ideas. You face the fact that you may work for years and years without external successes."
I usually make an effort not to read overly religious material, but this wasn't of the "trying to convert you to a specific religion" group, but rather more about spirituality in a variety of forms.

Not being a writer myself, I didn't fully connect with the book as a writer would, but I still found it interesting and gleaned some valuable insights from it. I think it has changed my view of authors and books from a reviewer's standpoint. The book really illustrated for me how you must truly love to write to be a writer. It is tough work!

This one gets eight stars. It is quite readable and immediately draws you in, which is quite remarkable for a non-fiction book! It is stuffed with all varieties of exercises to get your creative juices flowing and improve your writing. True writers will certainly appreciate its thoroughness and ideas.