Patricia Gussin, author of the book The Test, stopped by to share with us a piece she wrote for us.


---
From Patricia:
Have you ever met people so accustomed to being in charge that you felt sure they intended to "rule from the grave"?

That's what happens in

The Test

when world-famous billionaire Paul Parnell dies, leaving his "will" in the form of a "test". The "test" is his last hope of creating a lasting legacy by inspiring his children to give back to society and embrace a code of moral values. Six children, six agendas, six dramatically different walks of life, one year to react to "the test".

Will Paul's well-intended scheme bear good…or evil?

I was inspired to write this story based on a conversation that I had with my neighbor, a man so obsessed with "fairness" that he worried constantly about how to allocate his earthy goods and wanted to figure out a way to "rule from the grave".

Family, values, and choices have anchored my first two thrillers,

Shadow of Death

and

Twisted Justice

. With

The Test

, the entire story revolves around the Parnell family during that one year following their father's death. I come from a big family and I have seven children, so I feel very comfortable writing about complex family relationships and the intense emotions that simmer just beneath the surface.

Of course, because I am a physician, I always sprinkle my stories with medical characters. In the case of

The Test

, we have Ashley Parnell, the vulnerable medical student…and Conrad Welton, the evil psychiatrist who inserts himself into the fabric of the family.

One year can make a big difference in a life and in

The Test

that year makes a huge difference in the lives of all six of the Parnell siblings.

I love to write fast paced thrillers that keep my readers up all night, but I also try very hard to take my stories to a deeper, more human level, and because of my background as a mother and a physician, I like to mix up family and medicine and suspense in various ever-changing doses.

Thank you so much for letting me participate in Beth's Book Review Blog.
---
About the book: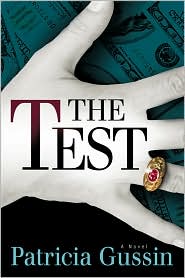 Renowned philanthropist and billionaire Paul Parnell had reached the pinnacle of monetary success, but not without cost. Had he put too much emphasis on work and spent too little time with his family?
Determined to leave something far more valuable than money to his six children, Paul instructs his lawyers to create an unusual last will and testament. This unorthodox will, which stipulates that the lion's share of Paul's two billion dollar estate be given to the heirs who pass 'the test,' was Paul's last hope of creating an enduring legacy by inspiring his children to give back to society and embrace a code of moral values.
The six children-Rory, Frank, Dan, Monica, Carla and Ashley-have only one year to make a difference. But what a difference one year will make.
Before these six very different siblings can complete the test, they'll be forced to face their personal demons and the incredibly evil influence that could claim one of their own.
---
About Patricia:
Board-certified in Family Medicine, Patricia Gussin practiced medicine and has directed medical research in her role as worldwide vice president for a leading healthcare company. She and her husband Bob Gussin divide their time between Longboat Key, Florida, East Hampton, New York, and their vineyards in New Zealand.
---
If you'd like to pick up a copy of Patricia's book
The Test
click on the cover image below.