Here goes this week's Library Loot!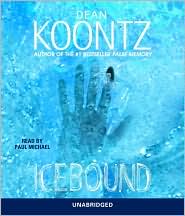 A stunning and suspenseful thriller, about humanity's continuous and sometimes futile battle against nature from one of the most popular and bestselling authors in America.
Conducting a strange and urgent experiment of the Arctic icefield, a team of scientists has planted sixty powerful explosive charges that will detonate at midnight. Before they can withdraw to the safety of the base camp, a shattering tidal wave breaks loose the ice on which they are working. Now they are hopelessly marooned on an iceberg during a violent winter storm. The bombs beneath them are buried irretrievable deep . . . and ticking. And they discover that one of them is an assassin with mission of his own.
This is the unabridged audiobook.
This is Rex Stout's first mystery novel, featuring the first appearance of Nero Wolfe, one of the greatest fictional detectives of all time. As any herpetologist knows, the fer-de-lance is among the most dreaded snakes on Earth. When someone makes a present of one to Wolfe, his assistant Archie Goodwin knows the large detective must be getting dangerously close to solving the murders of an immigrant and a college president. As for Wolfe, he's busy playing snake charmer in a case with more twists than an anaconda.
This is the unabridged audiobook.