Mailbox Monday is hosted by The Printed Page and is where we share all the books we received in the mail over the past week. I, personally, am no longer going to include books I receive for review, since they're already covered in their individual New Book Arrival posts.



For now, Shiraz is stuck on an estate in Goodmayes, Essex, with her sister Cava-Sue, her nightmare mum Diane and her loved-up mate Carrie. Hoodies, hip-hop and hanging about outside Claire's Accessories. Taking her flatulent Staffy for a walk. Lusting after local lad Wesley Barrington Baines II. It's a limited world for this loveable Essex dreamer. But when new English Teacher Miss Brackett arrives at Mayflower Academy, Shiraz is made to see there's more to life than getting excluded, suped up Vauxhall Novas and Chicago Town pizza. It's time Shiraz began thinking what she wants to do with life. And what sort of person she wants to be. A lot of snooty folk call Shiraz Bailey Wood a chav. Well if by 'Chav' you mean 'Charming, Hilarious, Articulate and Vibrant', Shizza doesn't mind that at all. Call her what you want. She don't care. She's keeping it real.








Shiraz Bailey Wood has made up her mind. She's leaving Goodmayes, waving goodbye to Mayflower Academy Sixth Form and her part time job at Mr Yolk and moving to London with Carrie Draper. Carrie's got herself a place at Tabitha Tennant's beauty school, so she's sorted. Now all Shiraz has to focus on is getting herself a job. She has a bit of trouble finding the most suitable job mind, nothing seems quite right for a girl of Shiraz's originality and wit...And she has to admit, she's missing her family - even Murphy - something rotten. But Shiraz BW will not give up - she's going to finish what she started, even if she does keep looking out of the crappy flat window to see if there's a Banana Yellow Golf parked up front.....










Growing up in a world of wealth and pastel-tinted entitlement, fifteen-year-old Carly has always relied on the constancy—and authenticity—of her sister, Anna. But when fourteen-year-old Anna turns plastic-perfect-pretty over the course of a single summer, everything starts to change. And there are boys involved, complicating things as boys always do. With warmth, insight, and an unparalleled gift for finding humor even in stormy situations, beloved author Lauren Myracle dives into the tumultuous waters of sisterhood and shows that even very different sisters can learn to help each other stay afloat.

For my friend abroad.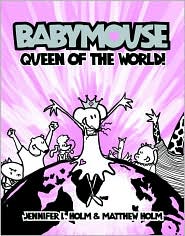 It's the same thing every day for Babymouse. Where is the glamour? The excitement? The adventure? Nothing ever changes, until . . . Babymouse hears about Felicia Furrypaws's exclusive slumber party. Will Babymouse get invited? Will her best friend, Wilson, forgive her if she misses their monster movie marathon? Find out in Babymouse: Queen of the World, a graphic novel with attitude!

For my friend abroad.