Clinton Kelly won't just revamp your wardrobe — he'll revamp your life!

The huddled masses yearn to be fabulous, and finally Clinton Kelly is heeding their call. As co-host of TLC's popular What Not to Wear, he regularly transforms dumpy fashion disasters into traffic-stopping, get-an-instant-promotion, reignite-the-passion-in-that-relationship makeovers. But fabulousness doesn't stop with style. Let's face it: you might look good, but if you're chomping on that crudité with your mouth wide open, nobody at the party will talk to you — even if you can explain to them what crudité actually is.

Of course, the keys to being better than everyone else aren't always so obvious. Don't worry; Clinton's here to help.

* How do you make a flat butt look big and a big butt look flat?
* What's the one trick that will slim down your entire silhouette and make your ta-tas look va-va-voom?
* How do you eat an oyster without getting kicked out of the best restaurant in town?
* What's the grammatically correct form of "lay" to use when propositioning a Baldwin brother?

He'll teach you how to look your best, sound your smartest, use the manners your momma taught you, poach an egg, fix a perfect gin and tonic, throw the most popular parties (and top the guest list at other soirees), make your home the envy of your neighbors, and generally be the fabulous person you always knew you could be.

From the three style criteria he uses to dress any shape for any occasion, to his eloquent approach to appreciation, to his four must-memorize recipes for whipping up a last-minute meal, Clinton Kelly shares it all in Freakin' Fabulous.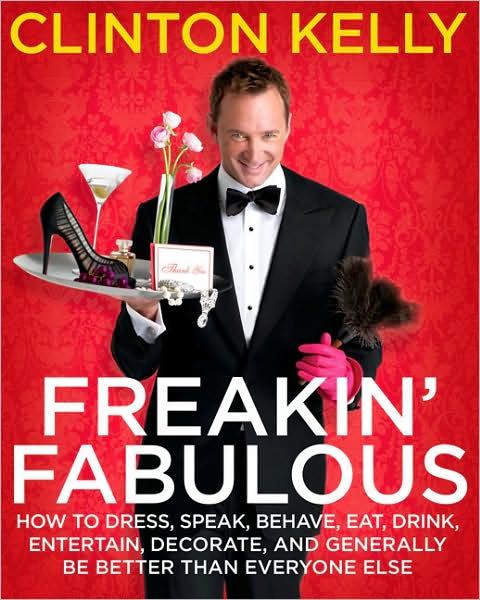 From the library.

The book was very well written and nicely done overall, although some sections could have been longer and more detailed. The sections included: Dress, Speak, Behave, Eat, Drink, Entertain, and Decorate which adequately covered most aspects of one's social life. I was a bit disappointed though in that it seemed to be rather obviously written for the upper middle class.

There was a hilarious collection of Thank You notes including this gem:


Thank you for dinner.
Your snoring kept me up all night!
I stole your Prada sweater vest.
Don't call me!
X
Some of my other favorite quotes were:
Not to go all voodoo priest on you, but your house creates a vibe that impacts your entire day. Never underestimate the mojo of your environment.
If you hate something, paint it white. Counters, cabinets, floors. Sanity in a can, that's what white paint is. Believe me.
More than anything, you are fabulous if you treat people with respect and encourage them to develop their own fabulous qualities.
This one gets three stars. I love Clinton on
What Not to Wear
, but solo he wasn't quite as palatable. I sort of overdosed on him by the end. The book was educational, but was written for a rather small group of people, which limits its reach. It's certainly worth a quick read, but I wouldn't go out and actually buy it. This is a definite library borrow!
★★
★
☆☆
= Liked It