A clear and utterly practical 90-day program for discovering a new direction for your life

In Now What? pioneering life coach Laura Berman Fortgang shares the process that she has used so successfully to help hundreds of clients make major changes in their lives. Whether it's moving on from a dead end job, discovering an entirely new creative outlet, or answering the age old question "What am I meant to do with my life?" this book provides a clear and infinitely practical 90-day program that can help you make major changes in your life.

For anyone who feels drawn toward a life-changing move but is not sure exactly what to do or how to move forward, Now What? provides a concrete process for finding and pursuing a new path in life. Full of inspiring and empowering exercises and tools, this book guides readers-day by day and step by step-through a 90-day process that will lead to true life satisfaction and fulfillment.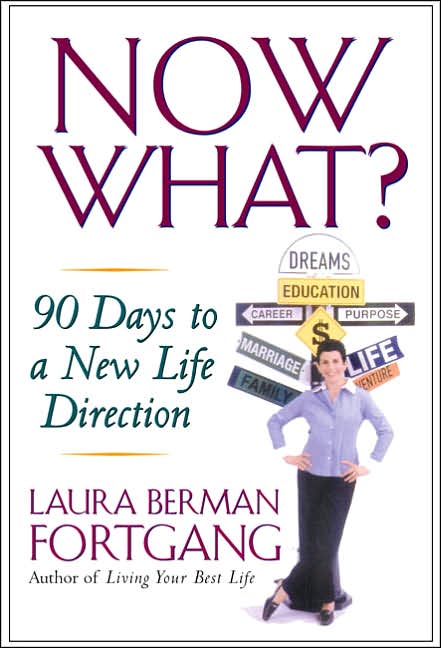 There were a few really good quotes from the book:


"Nothing we have done in the past is a waste, and it all happened for a good reason."
"When you are being stretched beyond your comfort zone, you are being asked to grow."
"Getting to be truly yourself will make you happier than any dream job, dream mate, or dream house that requires you being someone other than your true self."
The author pushes the reader to consider leadership roles, which may not be appropriate for everyone. She appears to consider non-executive jobs as sub-standard, which is unfortunate and really does take away from the book.
The book is quite obviously for the upper middle class which was blatantly illustrated by her including "housekeepers" on the list of essential expenses along with eating out and dry cleaning. She also downplays the role of money in people's job decisions. Most of the clients she discusses have the "problem" of replacing six figure incomes and leaving "unsatisfying" work as executives. I felt less and less in tune with the book the further I got into it.
This one gets seven stars. The book was very easy to read with a good flow. Each chapter is divided into nicely sized sections which provide you with perfect pausing points. The book also has a nice, positive attitude throughout. Although there are heavy overtones of wealth and upper middle class lifestyle, there are at least a few tidbits the average reader can take away from the book.
I must also note that the author mentioned how she would like to become a minister, which probably explains much of my discomfort with her writing style.
Rating: ★★★★★★
★
☆☆☆