Arnold Beckhardt, author of the book Black Gold, stopped by to share with us a piece he wrote.


---
My fifty-five year working career as an engineer came to an end in 1997 when my partner in a small software engineering firm died quite suddenly. We had founded a small consulting software engineering firm some ten years earlier after we retired from IBM. After my partner died I decided it was time for me to think about retiring for good. (My wife of sixty two year's tells me that I had decided to retire five times before and wondered whether I would make it stick this time!) After I retired "for good", I couldn't just play golf every day of the week and I found the need to create something. While I had written technical papers and trade magazine articles I have never tried anything like a long story. It was very fortuitous that about the time I started to do some serious research, a Creative Writing Class was announced at our local library. I suddenly discovered the pleasure of the research that went into the creation of a story that was based on historical events. That's how my new career as an author began!
---
About the book: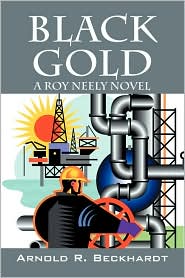 Large scale oil development in the Caspian Sea part of the world started in the late 19th century and Russia was the dominant player until very recently. The construction of the Baku-Tbilisi-Ceyhan pipeline by a consortium led by British Petroleum has changed the dynamics of the relationships in the Caspian energy corridor. Black Gold is a story of the game between who has the oil and who needs the oil. Roy Neely, sixty-five-year-old-widower, ex Air Force Vietnam fighter-bomber pilot, former CIA surveillance trainer and retired FBI psychologist takes on a sensitive assignment: How to protect the flow of oil from the Caspian Sea to Europe. The clock is ticking on a plot to disrupt the Baku-Tbilisi-Ceyhan pipeline. Neely accepts the challenge to protect the pipeline while struggling to find meaning to his own life after the sudden death of his wife.
---
About Arnold:
Arnold R. Beckhardt is a retired IBM engineer who specialized in the development of military weapon systems and civilian space programs, including key components of the Saturn-Apollo moon rockets. He was a U.S. Army Air Corps pilot in World War II, flying treacherous Himalayan air routes over China, Burma, and India. Later he served in the U.S. Air Force reserves, piloting the first generation of transonic jet fighters while working as an aerospace engineer for NACA, the federal aeronautic agency that later became NASA. After retiring from IBM, he ran an international software engineering business based in Florida and Tennessee.
Before becoming a novelist, Beckhardt published technical papers and magazine articles. He published his first
Roy Neely
novel
TURNAROUND
in 2007 at the age of 85. He continued his writing career with this second Neely novel,
GOERING'S GOLD
, published in 2008. His third Neely novel,
BLACK GOLD
, published in September 2009. Beckhardt earned his degree in aeronautical engineering from the Rensselaer Polytechnic Institute in 1944. He and his wife Greta now live in Vero Beach, Florida.
---