Hank Schwaeble, author of the book Damnable, stopped by to share with us a piece he wrote.


---
When is a horror novel maybe not a horror novel?

Genres in fiction are extremely important from a marketing perspective, and far from merely being a sales device, are actually a very useful tool for readers. Genres provide a relatively efficient way of matching reader tastes with the appropriate style and subject matter. They provides a shorthand for readers who don't have unlimited time on their hands to determine which among the hundreds of books published every month falls within the zone of their interests.

What I wanted with my first novel, and what I knew I wanted even before I wrote the opening line, was to write a horror novel with a noir feel to it. I've always enjoyed hard-boiled detective novels, loved the elegance contained in the lean, spare prose, and thought the dark side of humanity explored in noir lent itself perfectly to a horror story. So perfectly, in fact, I never could understand why it was so rare to see the two merged.

The idea for the book grew out of a vague notion I had for a scene where a man is killed trying to save a woman from an animated corpse. Not a flesh-eating type zombie, but one that seemed to have a purpose. I sat down and wrote a draft of the scene, which eventually became the prologue, then bounced the idea around in my head and came up with the plot for

Damnable

.

Job one following the initial idea was coming up with a protagonist. I knew I wanted an unlikely, reluctant hero. A guy who was extremely tough, but battered and bruised and cast aside by society. Not a detective, but someone forced to act like one to get at the truth.

What I came up with was Jake Hatcher. An ex-special forces interrogator who'd been disgraced and imprisoned for essentially doing what he was trained to do. A guy who brought an unusual skill set to the table, but one that made an intriguing analog to the dark forces he was investigating. A man who has long assumed that if there was a hell, he was heading there, and who discovers he may just be the only chance everyone else has of not joining him.

So just like the protagonists of hard-boiled detective fiction, Jake Hatcher is battling his demons. But as he digs for the truth about his family, this worldly skeptic also finds himself battling real demons, and in doing so is forced to confront the reality of Heaven, Hell, damnation, and the implications that reality holds for him, and everyone else.

In writing

Damnable

, I drew heavily on my background as a special agent for the Air Force Office of Special Investigations, primarily in trying realistically to portray the approach and mindset of a military interrogator. Having conducted numerous interrogations during my years as an agent, and having had extensive training in the techniques and psychology involved, I wanted to bring an authenticity to both the military and the law enforcement angle that I find frequently lacking in movies, on television, and in books. And I wanted it to be authentic not only when it came to how real interrogations are conducted, but also a similar also regarding the general forensic and procedural details involved in the various disciplines depicted.

So, about ten to twelve months after I started, I had Damnable. But what, exactly, did I have? A horror novel? A thriller? A mystery? A suspenseful noir? One of the problems with having a novel that incorporates elements from a number of genres is that you have a hard time figuring out what to call it. My agent and I decided it was a supernatural thriller. Penguin bought it, and stamped HORROR on the spine. To be fair, it certainly is a horror novel, but hopefully readers will find it also to be a an exciting thriller, a suspenseful mystery, and a riveting noir.

But most importantly, I hope readers just find it to be a highly entertaining page-turner, and one they thoroughly enjoy. That, of course, is for each one of them, and only each one of them, to decide for themselves. Genres be damned.
---
About the book: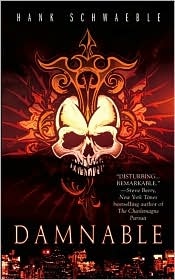 Special military operative Jake Hatcher, a skilled interrogator trained to extract information by all means necessary, is serving jail time for doing his job – a little too efficiently. A letter from his mother, requesting his emergency release to attend the funeral of his brother, springs him from temporary hell. There's only one problem – he's an only child. And unbeknownst to him, there's a much worse hell waiting in the wings.
After confronting his mother, Hatcher sets out to learn about the brother he never knew, and look into the circumstances of his death. This seemingly idle foray leads him to dead people who don't stay that way; a seamy supernatural community filled with creatures that thrive beneath the streets of New York City; cops unconcerned with either protecting or serving; and the most gorgeous women he's ever met, temptresses whose entire existence revolves around the pursuit of pleasure and the perpetuation of evil.
The driving force behind much of Hatcher's journey is the scheme of wealthy eccentric Demetrius Valentine, a man with complex motivations involving large-scale revenge, wickedness, and torture. His goal is to avenge the death of his parents through fulfillment of an ancient prophecy connecting the rise of the prince of hell to the end of heaven. The ever-resistant and unlikely hero, Hatcher discovers that only he can stop Valentine and put an end to his diabolical madness.
---
About Hank:
Hank Schwaeble is a thriller writer and practicing attorney. His first short story, "Mugwumps," appeared in the anthology
Alone on the
Darkside in 2006. In 2007, he won a Bram Stoker Award for the anthology
Five Strokes to Midnight
, which he co-edited with Gary Braunbeck. The book includes three of his short stories.
A graduate of the University of Florida and Vanderbilt Law School, Schwaeble is a former Air Force officer and special agent for the Air Force Office of Special Investigations. He has conducted major criminal and counterintelligence investigations for the Air Force and the Department of Defense.
A distinguished graduate from the Air Force Special Investigations Academy, he graduated first in his class from the Defense Language Institute's Japanese Language Course, and was an editor of the law review at Vanderbilt where he won four American Jurisprudence Awards.
Schwaeble is an active member of the Horror Writers Association and the International Thriller Writers Association. He lives in Houston, Texas and is currently working on his next novel.
---