Shiraz, author of the book Defenders of the Scroll, stopped by to share with us a piece he wrote.


---
One of the big influences in my writing was something I was afraid to do for the longest time. Travel. I didn't have an actual fear of travelling, but of missing things at home while I was out travelling. I had a close group of friends growing up and summers together were amazing. I didn't want to miss the parties, the hanging out, the general summer stuff, if I went away. But then came the summer that one of my best friends, Mike, got a co-op job in Finland, and another one, Mark, got a job on an archaeological dig in Hungary. I figured that if I backpacked through Europe that summer I could meet up with either of them if I got homesick or lonely.

So it was that I embarked on my first journey on my own away from home. I landed in England where I toured the south countryside. Being a King Arthur enthusiast I HAD to visit Arthur's supposed grave site, as well as Glastonbury Tor and Stonehenge. Staring at those huge stones was something I'll never forget. It was the moment that I was sure that the trip was a good idea. Soon after I was off to continental Europe and hopping from country to country. I was never actually alone except when I wanted to be since just about every other backpacker was friendly and there was this camaraderie in which people would hook up and travel for a while, and then go their separate ways. Also, for you readers like me, many hostels had bookshelves with a "leave a book, take a book" policy, so I always had something for the train.

I did make it up to see Mike in Helsinki, and he took me catamaraning in the Atlantic as well as to a few of the famous Finnish sauna parties. In Hungary, Mark's boss let me participate in the dig and I helped unearth a skeleton of a man who we discovered to be a thief because his hand had been cut off as punishment. The dig was determined to be a Roman outpost, which meant that the Roman empire extended past where we were, which was pretty big news. I don't have pics from the dig, but at one point we put sunglasses and a hat on the skeleton and posed with him.

Eventually, I made the call home to my friends and what I feared most had come to pass. Apparently, there had been a HUGE birthday bash for one of my friends that had been dubbed the party of the century. Hundreds of people, music off the hook, alcohol flowing. They told me I picked the WRONG year to travel, then asked if anything interesting had happened on my trip. Well, I told them I saw Lord of the Rings done as a play in a real castle in Finland. I cliff dived in Greece. I dug up a skeleton. Oh, and I partied with about a million at the Eiffel Tower while fireworks went off overhead. I could hear the jaws hanging on the other end.

That trip cemented my lust for travel and the places I've been to since have greatly influenced my career and my writing. Germany was conducive to writing a vampire novel (which I hope to release later). Japan, India, Spain (grrr), and more taught me about how cultures can come together or clash, and that is, and will be, shown in the DotS series. If you haven't travelled much, or at all, I recommend that you find a way to do so. It opens your eyes, your mind, your world and your opportunities in it. Well, that's what I've found so far.
---
About the book: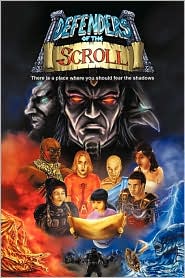 A teenage boy.
A dark wizard.
A mystic scroll.
And the fate of a world hangs in the balance...
When Alex "the Axeman" Logan is pulled from his world to help a young princess, named Dara, save her kingdom from the Shadow Lord, he thinks there has been a mistake. He's a teen guitar player close to failing 11th grade, not some defender of the realm. All he has are some school books, his wits, and his love of fantasy movies.
Overnight his life is history. Alex must confront the Shadow Lord and his minions when he is thrust into a land that has changed from a magical paradise to a barren, hopeless, helpless realm invaded by a dark army. But Alex is not alone. He has the help of Dara, a magic scroll, and a band of unlikely companions drawn from his own history books: a hardened Roman Legionnaire, a swift Japanese Samurai, a fearless African Warrior, a fiery Amazon Archer, and a spirited Shaolin Monk.
Can Alex become more than he believes and lead his small band of Defenders to the Hall of Shadows, the birthplace of the Shadow Lord? The fate of the realm and everyone in it rests on him.

---
About Shiraz:
Shiraz was raised just outside Toronto, Canada, but has since lived and worked in Germany, Japan, and Australia as a software developer. Shiraz has typically developed business software, but more recently, he has been making the move to video games. He designed and project managed the games for several interactive movies including "Snowbirds," which won the 2006 Intellichoice Award, and "The Dolphin Bay Project," which has been showing at MOTE Marine Labs in Florida for five years now. He also just posted his first iPhone game, "Drop Zone Elite," on the app store through his company Gambatte.

Shiraz has been writing for fun all his life, but it wasn't until he teamed up with Rupinder Malhotra, at R.M. Productions, to create several Series Bibles (instruction manuals for developing specific shows) for some children's animated series, that he took his writing to a professional level. "Defenders of the Scroll" is actually based on one of those bibles.
If all goes well, he plans to spend his days making games and his evenings writing novels, hopefully from different, beautiful places each year.

Picture courtesy of the author. It is his favorite Halloween picture of himself, in honor of his guest post here on Halloween!


---