Here goes this week's Library Loot!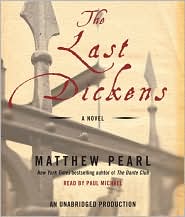 The author of
The Dante Club
and
The Poe Shadow
has fashioned another sleight-of-hand historical mystery that keeps us guessing from almost the first page. Again, master prestidigitator Matthew Pearl sets up with a simple double conundrum: In the jungles of India, a policeman shouts out the name of Charles Dickens while chasing a felon, while halfway around the world, a Boston publishing house clerk loses his life and the advance installment of Dickens's never-finished novel,
The Mystery of Edwin Drood
.
The Last Dickens
casts its spells between these polar events, conspiring to make us both careful textual detectives and fearless street sleuths. A challenging intellectual entertainment.
This is the unabridged audiobook.
Martie Rhodes is a young wife (happily married to Dustin for three years), a video game designer, and a compassionate woman who takes her agoraphobic friend Carol to therapy sessions. Carol is so afraid of leaving her apartment that the trips are grim ordeals for both women—but bonding experiences as well.
Then one morning Martie experiences a sudden fear of her own, a brief but disquieting terror of...her shadow. The episode it over quickly. It leaves her shaken but amused. Then, as she is about to check her makeup, she realizes she is terrified to look in the mirror and confront her own face.
As the episodes of this traumatic condition—autophobia—build, the lives of Martie and her husband change drastically. Frantic to discover the trigger for her descent into hell, Dustin begins to look into the background of a respected therapist. As he comes closer to the truth about this strange and troubled "healer," Dustin finds himself afflicted with a condition even more bizarre and terrifying than Martie's.
This is the unabridged audiobook.