In The Great Waves of Change, Marshall Vian Summers explains the steps you can take to navigate our increasingly turbulent and uncertain times. In the face of such uncertainty, Summers presents a revolutionary new way of knowing a unique process that can be applied by people everywhere. By understanding the Great Waves and by connecting to a deeper authority within, you can find the strength, courage and inner certainty to adapt and to become a contributor, not a victim, to a rapidly changing world.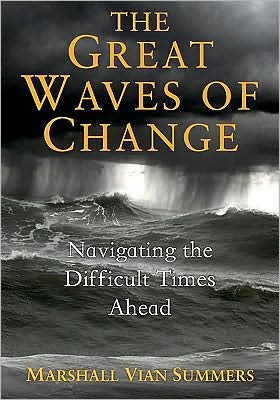 Received from the publicist for review.

I had hope that this book would be positive and hopeful. It wasn't. It was mainly a great deal of fear mongering and unsettling Doomsday predictions reminiscent of Y2K such as:


There will be environmental refugees, and there will be war refugees on a scale never seen before.
There were a couple of messages about balance in your life, and such, that, when taken independent of the rest of the text, were beneficial.
You must establish this foundation within yourself before you can commit yourself to anyone or anything.
This one gets two stars. I'd had higher hopes for it, but unfortunately it did not deliver. The cloying religious tone was disconcerting, and the message was not hopeful in the least. I found nothing particularly positive in the message presented and was left feeling disconcerted and uncomfortable. I can only recommend this to fans of apocalyptic books.
★
★
☆☆
☆
= Didn't Like It