Many readers wonder what inspires the creative genius of bestselling suspense writer Dean Koontz. Much of the credit must go to Trixie, the golden retriever who has taught him things about life that no human ever could.

Trixie shows us how to be happy every moment of the day, except those fleeting moments after a meal when the dish is (temporarily) empty. Dogs know how to work hard and to play even harder. With words of wisdom only a bird dog knows, and beautiful photos to warm your heart, this book will lift your spirits and make your leg shake uncontrollably with pleasure!

Trixie wrote LIFE IS GOOD to support her friends who are service dogs for people with disabilities. She is donating her royalties to Canine Companions for Independence (CCI), the national organization that breeds and trains assistance dogs for adults and children with disabilities.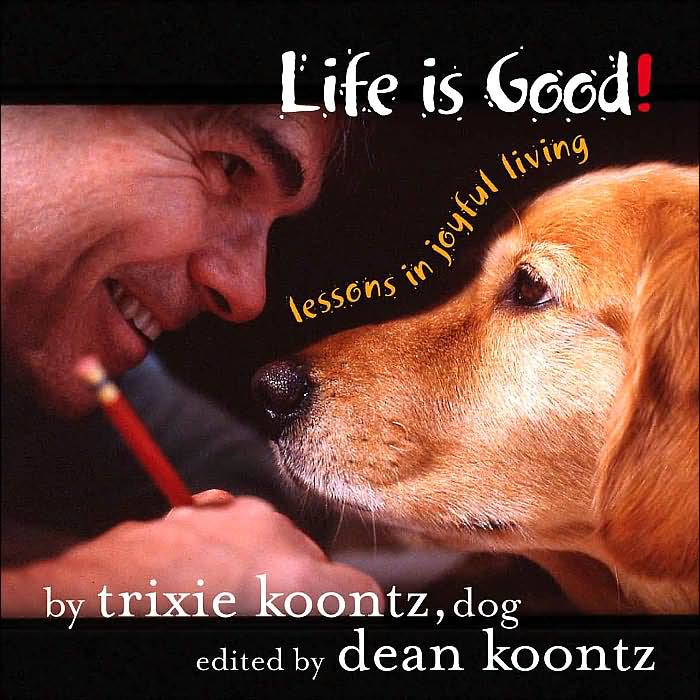 From the library.

This was the first Trixie book, and it was a great introduction to the series. The photography was adorable and the book was just charming overall, even for a cat lover like me. You can just tell how much Koontz loved Trixie.

Some of my favorite quotes were:


If you look in a mirror and see crocodile, get plastic surgery. Red-rubber bone will not be enough to soothe you.

Warning! Don't go see

Old Yeller

! Ending sucks!

Old Yeller

written by angry hateful crazy cat! Or Satan!



War and Peace

gets a no cookie rating from this critic. Plus I peed on book. Critic is entitled to strong opinion.

This one gets four stars. It was utterly adorable and would make a perfect gift for dog and Koontz fans alike. It brings a smile to your face while reading it!
★★★★
☆
= Really Liked It