Eating disorders. Steroids. Plastic Surgery.

We'll do anything to look better—and yet we still feel bad about how we look. Self-loathing has reached epidemic proportions. But there is a way to end self-destructive thoughts and behavior. In this book, noted body-image expert Sarah Maria presents her proven five-step plan anyone can use to overcome negative body obsession (NBO). She helps you:
Commit to change
Identify and detach from negative thoughts
Discover who you really are
Befriend your body
Find your purpose
Love your body, love your life
Complete with exercises, case studies, and testimonials, you can learn how to stop obsessing over food and your body and achieve permanent peace with both. You'll banish NBO forever, and feel healthy, radiant, beautiful, and desirable—every day!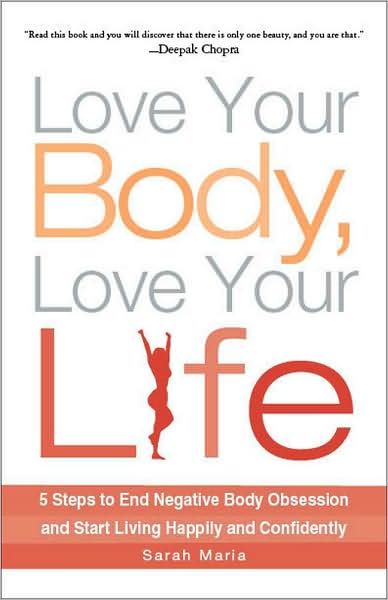 Received from the publicist for review.
This was a nice, upbeat book with an important message but a couple of things did bother me.
The author focused quite a bit on the underweight, which I found rather odd, considering 60% of the US population is
over
weight and the average US woman is a size 14, both of which the author mentions in the book.
The author is also an "expert" on the subject because she gained 30 pounds. Really? Perhaps if she had gained a significant amount of weight I'd be more inclined to understanding, but 30 pounds? Come on!
The book is certainly not for the mildly displeased "I wish I had Eliza Dushku's body" crowd, but for those truly calorie counting binge/purge/exercise overkill ones.
It was nice that the author took the time to explain her view of how loving your body does not mean you become complacent about improving it. I was a bit concerned at the beginning that that is what she was advocating.
There was some fascinating research presented on visualization and performance in athletes.
This one gets three stars. While I wasn't enthralled, I also don't have a bad case of NBO. Anyone who does have NBO issues would certainly benefit from the book as it is filled with exercises to work through your NBO challenges. The book has a nice, positive, uplifting message, written in an upbeat, friendly, accepting way and rather reminded me of
The Secret
.
★★
★
☆☆
= Liked It