BEST FRIENDS WON'T TELL YOU THE TRUTH...
BUT TRINNY & SUSANNAH AREN'T YOUR BEST FRIENDS.

"Blondes and shiny fabric equals hooker."

"The top is a disaster. Unless you're four years old."

"No one looks good in a track suit-not even Madonna or J-Lo."

"Cropped pants make any woman look like a stunted man."

LOOKING GOOD HAS NOTHING TO DO WITH FASHION TRENDS. IT'S ALL ABOUT WHAT NOT TO WEAR...

"We're not shy of making criticisms," says Susannah. "But we wouldn't say, 'You've got a great fat butt-end of story.'"

What Not to Wear is a book of hands-on advice and straight-talking guidance that is all about personal style-dressing for your body shape and personality. So what's your problem?

* Big Boobs
* No Boobs
* Big Arms
* Big Butt
* No Waist
* Short Legs
* Flabby Tummy
* Saddlebags
* Short Neck
* Thick Legs

TRINNY & SUSANNAH WILL TELL YOU WHAT TO TOSS, WHAT TO BUY, WHERE TO FIND IT, AND HOW TO WEAR IT.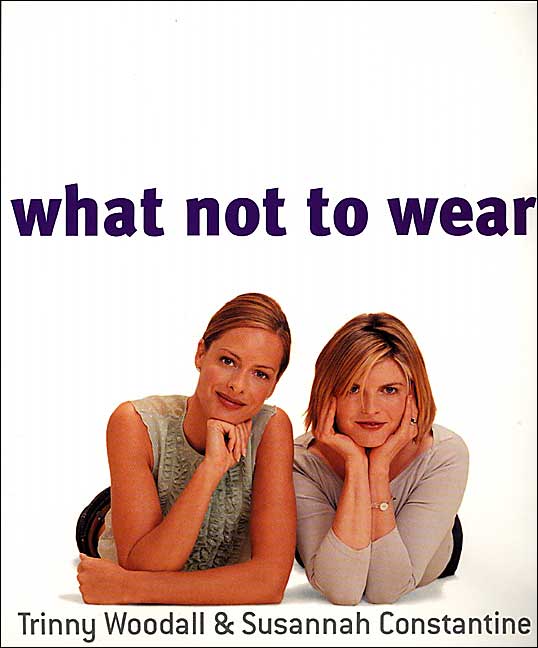 From the library.

I love the What Not to Wear show, both on the original on BBC and TLC's American version. It's rare to actually find someone who will be that frank with you, let alone two. Trinny and Susannah make the ideal team!

The book includes several great quotes. These are two of my favorites:


But looking stylish is not about following fashion, losing weight, being rich or succumbing to the knife. It's about dressing to show off what you love and hiding what you loathe about your body.

Leggings are for the gym and nowhere else.

This one gets three stars. The entire book was very well done. The photographs for each do and don't beautifully illustrate the points. Also, the combination of photos and text is brilliant. The authors are completely, refreshingly frank. This is certainly recommended!
★★
★
☆☆
= Liked It