Meditation is now enjoying a renewed surge of popularity, penetrating the public consciousness as never before. What might that mean for us all? Be the Change examines the transformations wrought by this ancient practice through the wisdom of extraordinary luminaries, interwoven with text from award-winning authors Ed and Deb Shapiro. The words of these spiritual leaders from all disciplines and walks of life will surprise, enlighten, and inspire readers to begin their own meditation practice—and perhaps create the foundation for a new and more hopeful age.

Includes wisdom from luminaries such as:

* HH the Dalai Lama * Marianne Williamson * Robert Thurman * Jon Kabat-Zinn * Ram Dass * Byron Katie * Dan Millman * Joan Borysenko * Jane Fonda * HH The Karmapa * Jack Kornfield * Krishna Das * Dean Ornish * Andrew Cohen * Jean Houston * Kitaro * Ellen Burstyn * Gregg Braden * Gay & Kathlyn Hendricks * Debbie Ford * Gangaji * Rabbi Zalman Schachter * Cyndi Lee * Wavy Gravy * Linus Roache * Tim Freke * Don Campbell * and many more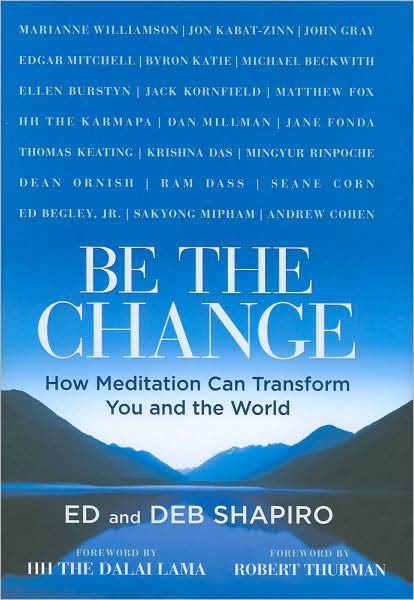 Received from the publicist for review.

The 300+ pages of insanely small print left me wishing that the book was printed on larger paper so the print wouldn't be such an eyestrain, but the material was worth the eyestrain.

My favorite quote from the entire book came from Ed Begley, Jr.:


We can make it a saner and happier world if we just slowed down and had less focus on wanting or needing more stuff. If stuff made you happy, there would be nothing but happy people living in Bel Air and unhappy people living in Fiji where they have nothing, but I have been to Fiji and there are plenty of happy people there. I have never seen a hearse with a luggage rack on top. We have got to get away from stuff and appreciate what is here.
This one gets four stars. While, of course, I did not agree with everything presented, the book did have some wise nuggets of information for everyone who needs it. The discussions of various types of meditation to fit every person and temperament are quite interesting. It is certainly quite dense and needs to be consumed slowly, but it is an excellent resource that you will revisit again and again.
★★★★
☆
= Really Liked It