Ed Benjamin, author of the book Cash in on the Obama $3 Trillion Spending Plan! How to make large amounts of money by conducting business with or receiving grants from federal, state, and local governments, stopped by to share with us a piece he wrote.


---
One of the most frequent questions I get asked is "Why did you write this book?"

In 1990, after I retired from the United States Air Force, I began writing proposals on a free lance basis. I did not have any training on writing proposals other than the fact that working for the Air Force, I had reviewed many proposals and had some idea about what the government wants when it issues a Request for Proposal. I was very lucky in my proposal writing career. The first proposal I wrote helped my client win a $130 million contract to maintain aircraft at the Euro-NATO Joint Jet Pilot Training wing at Sheppard AFB, Texas.

After winning a few more, I knew I was on to something. So I began to analyze what I was doing that seemed to enable me to write proposals which the government deemed technically excellent. I then begun to organize my approach and developed a technique which helped my write proposals that met the government's requirements. My clients did not win all the contracts but the government always gave the proposals high marks. For many years, I worked on proposals and passed along my techniques to those people with whom I worked.

I have often worked with smaller businesses to help them get started in obtaining government business. I was used to the process because I had worked with it in the Air force and I was surprised to find how many people found it daunting to cut through the red tape and become qualified to win government business.

In early 2009, with the economy in bad shape, I noted that many more people were interested in the mechanics of doing business with the government.

I thought about doing this book for years but always felt I was too busy to spend the time to write it.

When the downturn hit and the economy was on the verge of collapse, more people became interested in doing business with the government. After surveying the literature, I determined there wasn't a good step by step guide to help people unravel the bureaucratic morass you have to cut your way through to do business with the government.

So I decided to write the book which gave people a step by step guide to doing business with the government. I also included in my book some of the techniques which have helped me write good, solid technical proposals and grant requests for my clients.
---
About the book: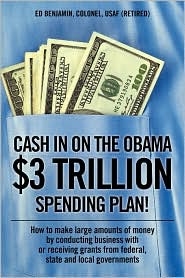 In the time it takes to read the introduction to this book, the federal government will disburse millions of dollars to businesses just like yours. And with the passage of President Barack Obama's historic stimulus bill, there's never been a better time to do business with the government. Indeed, if you can provide it, chances are the government would like to buy it!
Think you don't qualify? Put off by bureaucratic red tape? Think again.
Cash In on the Obama $3 Trillion Spending Plan!
shows you how to land contracts, grants or loans ­— even if you have no previous experience with the government or are a one-person business.
You'll discover:
- What the government wants to buy — from janitorial and engineering services to paper, pens and pencils;
- How the federal procurement process works: Learn the difference between a request for proposal and an invitation to bid;
- Proven ways to stand out from the crowd — including the magic word that should be in any proposal guaranteed to "wow" decision-makers;
- Where the government advertises its needs, so you can target your goods and services where they'll have the best chance;
- Much, much more!
Written by a renowned contract consultant,
Cash In on the Obama $3 Trillion Spending Plan!
is easy to understand and chock full of examples. Don't let another contract go to somebody else!
---
---
About Ed:
Ed Benjamin, a retired Air Force Colonel and currently a consultant to industry, knows how to win contracts. In his 19-year proposal writing career he has led proposal teams to win over $12 billion in US, foreign, state, and county government contract awards, and now he's sharing his expertise in a new book, Cash in on the Obama $3 Trillion Spending Plan! How to make large amounts of money by conducting business with or receiving grants from federal, state, and local governments. The book, published by Outskirts Press, is a complete, step-by-step guide to winning government business and receiving grants. With the passage of President Barack Obama's historic stimulus bill, there's never been a better time to do business with the government. The book is available through
Amazon.com
and
BarnesandNoble.com
---