Heath Sommer, author of the book The Manufactured Identity, stopped by to share with us a piece he wrote.


---
The first time I sat in the intimate space of a patient who had only hours before tried to kill herself, the reality of mental health—that people in America and across the world spend endless days suffering, emotionally bleeding, and in angst—seeped deep into my being. I remember the woman had swallowed giant handfuls of endless pills, and looked at me amid a bustling emergency room, pleading through half raised eyes to somehow assist her to end her life. Of course I did not, and in fact I got to know that patient very well, watch her grow, reinvent herself, find love, and discover that life can be a powerful though not always pleasant experience.

Somehow that experience awakened in me a strong desire to share with the world the vulnerabilities of mental health on a broader stage. As a youth I had always been driven to the written word, especially when that word was crafted into pacing, character development, plot, and twist. With the nurturing of some close friends and authors, I set out in 2005 to write my first novel, which has now culminated in the publication of the first of three books to be released over the next 12 months.

The current novel,

The Manufactured Identity

, follows the characters of several women who each awaken to find their faithful companions missing. As the story progress the lives become increasingly intertwined, and the plot thickens into a psychological thriller that is probably 60% psychology and 40% thriller. Perhaps I can explain what I mean by this formula.

A friend and fellow clinical psychologist pointed out to me a few weeks ago that I write like the mental health experience unfolds for patients. At first the book probably seems unrelated and even perhaps confusing, just like the experience a patient has in the first few sessions of therapy. As the reader (and patient) progresses, connections that weren't obvious before become very obvious, and a drive to complete the story intensifies through the end, which brings reframed insights that change the meaning of the chapters read long before.

Someone a few days ago congratulated me on the initial success of this novel, which has been gaining in momentum and sales. They asked me what I thought was driving the interest. While I don't know for certain what people are connecting with I have one idea. Eighty percent of people who need mental health treatment never go, and I think that this is true in part because many of us think our pain and suffering is so normal we would be shocked to know that it has reached a clinical level. With this in mind, I wonder if what people are responding to is the fact that this novel is very real about many universal human experiences. For instance, the novel touches on romance, sexual identity and attraction, marital burnout, disillusioned love, deceit and violation of trust, god, depression, happiness, trauma, dissociation, and loneliness. Perhaps the greatest accomplishment I feel in the writing of this book is in the compliment that one individual from a remote part of the world gave me when she said the book thrilled and disturbed her to the point that she lay awake several nights wondering if she agreed with it or not. I loved this response because I believe good stories are those that challenge us, but from a subtle, mostly safe distance.

To wrap, I appreciate the opportunity to provide a guest blog today (thanks Beth), and thank all of you readers for giving us unknown upstarts an opportunity to explore some of our life experiences with you. As one person I met years ago philosophized, "the best adventures in life are usually experienced not out of the home, but on chairs and sofas, venturing between two minds." What an honor and great adventure it has been to share part of what is in my mind with all of you. Happy reading,

Heath Sommer
---
About the book: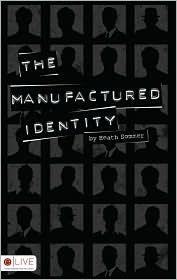 Months after his mysterious disappearance from a routine fishing trip, no one really expects over-the-hill Texas housewife Lory Latchley to find her missing husband—especially her husband. The Manufactured Identity is clinical psychologist Heath Sommer's ever-escalating immersion into the world of unlikely friends who each awaken to find their faithful companions missing without warning or reason. Desperate to find meaning in their pain, they are thrust by the auspices of fate into a common thread of mystery and human frailty. In the end, the fate of all may reside in the unstable hands of rookie pastor John Joe, but ultimately Lory and her newfound partners will uncover a truth so unnerving it makes even infidelity look palatable.
---
About Heath:
Heath Sommer earned his Ph.D. in clinical psychology from Idaho State University, a program recognized and accredited by the American Psychological Association. He has also earned both a Masters and Bachelors degree in psychology, and an additional Bachelors degree in Marriage, Family, and Human Development. A native of Sacramento, California, Dr. Sommer has enjoyed opportunities to present his research at national conventions including The Association for the Advancement of Cognitive and Behavioral Therapy and the American Psychological Association. He currently works for the state of Idaho as an administrative psychologist and adjunct professor of psychology at Idaho State University. He notes that what free time he has he spends either with his wife and seven children, or in prepping the prequel to
The Manufactured Identity
, another psychological thriller tentatively entitled
The Grand Delusion
, set for release in 2010.
---