J.W. Nicklaus, author of the book The Light, The Dark & Ember Between, stopped by to share with us a piece he wrote.


---
Can We Out-spend Our Discontent?

John Steinbeck's words prophetically float to mind:

Now is the winter of our discontent.



As of this writing (which certainly won't coincide with your reading), the media are stepping all over themselves to quote economists who are injecting their mantra of the death-of-the-recession to all within earshot. Obviously there are way too many unemployed Americans who don't see eye-to-eye with their diagnosis.

And here we go into the busiest capitalist orgy of the year—the holiday shopping season, and everything it entails. We're conditioned . . . no . . . expected, to drop our fiscal wads over gifts for everybody we know. Sometimes, even for people we don't like, say at the office; that's got to be like chewing on sandpaper! Yet with so many out of work, and some even having their unemployment benefits expire, it amazes me even more this year that the retail barons still put on the full-court press of seasonal spending Bacchanalia. As a matter of course, I understand that for many retailers the holiday season is when they make the bulk of their money for the year. But for my money there are a number of things which they have yet to be able to profit upon, simply because they are indeed priceless:

The snow will still fall where it's cold enough to freeze the angels' tears.

Meals will be shared and memories created amidst the bare trees of winter and in close proximity to the warmth of a carefully tended fire inside, the frost on the windowpanes flickering from the glow within the fireplace.

Children will laugh as they play in the snow.

And all of that comes to us regardless of the economic climate. Except for those of us who don't live in snow country—we spray white stuff on our trees and eat snow cones instead. It's the best you can hope for at lower elevations.

But what if we took a decidedly simpler approach to the holidays, like before the over-indulgence of credit cards?

What if we still hung our stockings by the chimney with care
And actually spent less than ever we'd dare
It's not always the gift, rather the thought we find nice
Nurturing the human touch has no monetary price
And when trimming the tree keep it simple but complete

Use stringed popcorn, it's cheap and good eats
And those holiday cards, sure they're nice to get
But nowadays we text or send them over the 'net

Many a consumer can say "Of money, we have little"
At times like these we can't just meet in the middle
We all want the holidays to feel better, to dispel our worst fears
Above all the clatter we hope to be of good cheer

Perhaps the hard times can restore focus to the season
And remind us that to buy gifts really isn't its reason
It's more subtle
More soulful
Even quietly profound
It's the one time of year we should feel better, all around

Though the weather may be chilly
And our wallets wafer thin
Remember that it's not what you spend that's important
It's what bubbles up from within

Respectfully I suggest a return to simplicity,
The seasons trapping should reflect our plight
And God bless us all, every one of us
Trust in yourselves, not your dollars, America . . . and all will be right
---
About the book:
A collection of short stories, each a splinter's reflection of the human condition, firmly centered upon our oft tenuous, sometimes tensile bond with Hope, and careening flirtation with Love.
Fifteen stories: From the wispy fog of a love lost at sea, to an orphaned child who delivers a present of her own during a war-torn Christmas. These stories are gentle reminders to each of us of what it is to be human, and certainly of our affinity for the slightest glint of Hope.
---
About J.W.: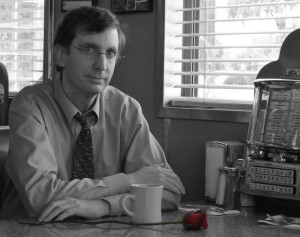 J.W. Nicklaus resides in a place not entirely fit for human habitation about five months of the year. No pets to speak of, only the apparitions from which all romantics suffer.
An Arizona native, he's been from one coast to the other, and a few places in between. College brought an AA in Journalism with a minor in Photography, and a Bachelor of Science in Telecommunications. His work experience has run the gamut from Creative Director for a small advertising firm in Tucson to a litigation support bureau in Phoenix (and assuredly some awkward stuff in the mix).
Snow has been featured prominently in his stories, perhaps because of the seasonless climate he lives in. Nature was meant to be enjoyed and experienced, not hidden from the senses. So to that end, he hopes someday to live amongst those who are able to live through four true seasons, and not just blast furnace and warm.
He enjoys the occasional Arizona Diamondbacks game with his son, as well as watching him grow up. The experience of being a single dad has taught him far more about himself than he ever thought possible.
Within the expanse of every waking moment, he hopes his guardian angel keeps its arms open wide and heart ever watchful, for there but for one true Hope goes She.
For more about J.W. visit
www.avomnia.com
.
---