The modern woman has enough hassles without having to put up with the antics of the man in her life. Why endure another day of snoring, football, and wet towels on the floor? With this hilarious, fully illustrated guide, learn 101 reasons why you should dump your chump and hook up with a cat!
So, besides the fact that your man's just not that into you, can he scratch his ear with his foot? Is he adorable when he pounces off the fridge onto your shoulder? Do you get to watch him nudge another man aside and eat his food? And can you improve his mood by tossing a fuzzy mousier for him to chase?
Of course not. There; that's four reasons to dump him and get a cat instead! Plus, you never have to remember how your cat takes his coffee. You don't need to pretend to your cat that you haven't had many other cats. And if your cat thinks your friends are hot, so what?
For every woman who's had enough of men, 101 Reasons to Dump Your Man and Get a Cat is the perfect gift—chock-full of humor, inspiration, and great advice. Why look for love in all the wrong places when it's right across the room chasing its own tail?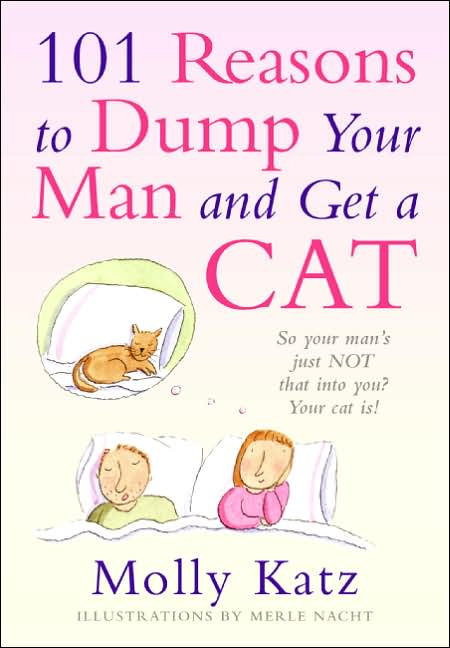 From the library.

I saw this on the shelf and simply had to check it out, even though I don't normally do books bashing one sex or the other, and I was certainly not disappointed!
Some of the gems included were:
You don't need to panic over how to tell your cat your period is late.
You can't make the bed with your man in it, and then giggle at the little lump.
Your cat won't hang a stuffed mouse head on the wall.
This one gets four stars. This was an adorable little volume, but quite hefty for its size since the paper is very thick. It was a nice, humorous, fast read. The illustrations by Merle Nacht were adorable and really added to the text. It would certainly make a lovely gift!