What really happens when the most powerful man in the world invites the most famous woman in the world to dinner? What is life really like in the 650 rooms beyond the gates of Buckingham Palace? Who are the 50 people in the line of succession to the throne? What does a Lady-in-Waiting do? What do you actually say when it's your turn to meet royalty?
A Year with the Queen tells the story from the inside. No Monarch in history has travelled as far and met as many people as Queen Elizabeth II. And no book has revealed the workings of the Monarchy like this — with members of the Royal Family and world leaders telling their own stories, too.
Like the brilliant television series it accompanies, A Year with the Queen shows the extraordinary world of the Monarch and her family — from sacred constitutional talks with the Prime Minister to the razzmatazz of a stay at the White House and from a seaside stroll with the Prince of Wales to a weekend in Iraq with Prince Philip. Equally extraordinary is the work of the Royal Household team — the man who carries the Crown around in a box, the team who counts out the medals, the chef who paints the chocolates, the in-house royal agony aunt....
The result is a book packed with fabulous photographs, important insights, wonderful anecdotes — and plenty of advice, too. Ever wondered how to reply to a royal invitation? Or how to get one...?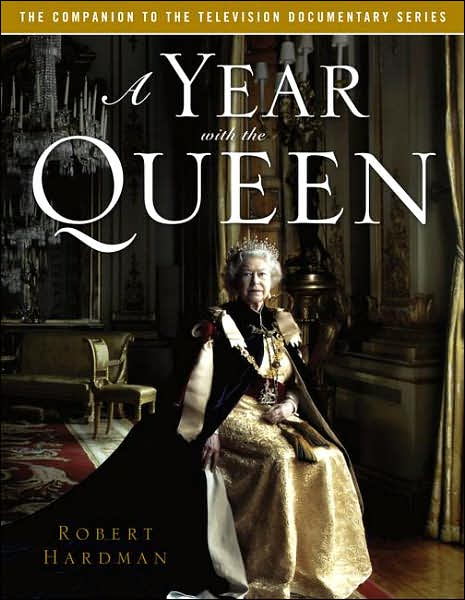 From the library.

This was simply packed with beautifully done photos with remarkably entertaining accompanying text. It was incredibly educational while managing not to be dry at all. It is certainly one of the most well written non-fiction books I've read.
My favorite quote was:
Her reign has spanned the Cold War, the end of the Empire, rock 'n' roll, the Beatles, the Space Age, the Internet and the war on terror, and she is still going strong. She is, quite simply, modern history in human form.
This one gets four stars. It was truly fascinating and surprisingly engrossing. It was well portioned so it is easy to take in bits at a time without being overwhelmed. It was charming, educational, and thoroughly enjoyable. It was well photographed (sometimes at rather poor resolution thought) and the accompanying text was extremely well written.
★★★★
☆
= Really Liked It
2010 Support Your Local Library Challenge