Crash! One minute Chester Cricket is calmly sitting inside his stump house. The next thing he knows, the roof is collapsing on him! Left without a home, Chester is forced to move in with one neighbor after another in Tucker's Countryside. Nothing works out quite right-John Robin throws loud all-night parties, Henry and Emily Chipmunk are too tidy, and Donald Dragonfly's twig is much too small for both of them. Even Chester's good pal Walter Water Snake can't help joking about Chester's predicament. Every one of Chester's friends has found a happy home. Will Chester ever have a place to call his own?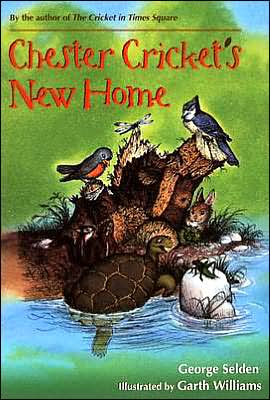 From the library.

I just love this series! My favorite quote from the book was:


Chester Cricket, like many insects and animals - and a few wise human beings - enjoyed his privacy.
This wasn't quite as happy as the other books. It reminded me a bit of
The Hitchhiker's Guide
series books reflecting the author's mood in his personal life and I found myself wondering what went on in this author's life.
This one gets three stars. It was a lovely story with charming illustrations by Garth Williams. Even Walter the Water Snake was cute. And for me to find a snake cute, even in a book, is saying something since I am firmly anti-snake!
★★
★
☆☆
= Liked It
2010 Support Your Local Library Reading Challenge