Beginning with the surprising opening of Haydn's grave in October 1820, Cranioklepty takes us through the extraordinary history of a peculiar kind of obsession.

The desire to possess the skulls of the brilliant and famous — for study, for sale, for public (and very private) display — has in some people been irresistible. And the lengths they have gone to achieve their acquisitions have at times become a comedy of the grotesque.

The after-death stories of Haydn, Beethoven, Emanuel Swedenborg, Sir Thomas Browne and others have never before been told in such wretched detail and lightning vividness. Fully researched, indexed, and illustrated with some surprising images, this is a fascinating and authoritative history of ideas carries along on the guilty pleasures of an anthology of real afterlife gothic tales.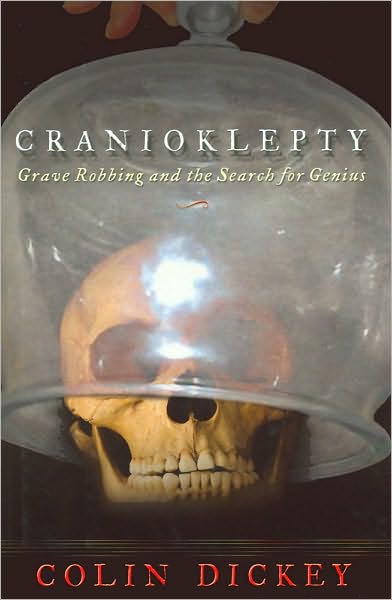 From the library.
This was an interesting look into a world I never knew existed. I found myself wondering just who the heck would steal someone's head and why after seeing the book in the bookstore. After reading it, I found all my questions answered.
Phrenology (the pseudoscience study of the bumps on a person's head) was certainly a strange, strange "science", but rather fascinating as well.
This one gets three stars. The book handled the story of each head (from Haydn to Beethoven and beyond) quite nicely. The retelling of events was respectful of all parties involved, from the deceased whose head was stolen, to those doing the stealing, to those who set the process in motion with their desire to acquire the head. The text was clear and concise, yet still entertaining making the book a pleasurable read.