Diana Kirschner, Ph.D., knows the questions single women everywhere face: "Why am I attracted to the wrong kind of guys?""Why is he just not that into me?""Why can't I seem to find the One?"In Love in 90 Days, Dr. Diana reveals the secrets to finding Mr. Right and the crucial steps single women can take to create fulfilling love that lasts.

Most singles unconsciously make the same mistakes over and over again in love, regardless of age, work success, or the type of man they are dating. Using her unique four-pronged approach, Dr. Diana pulls no punches. She outlines a program that gets women on the path to smash through their self-sabotage and forge a healthy love relationship.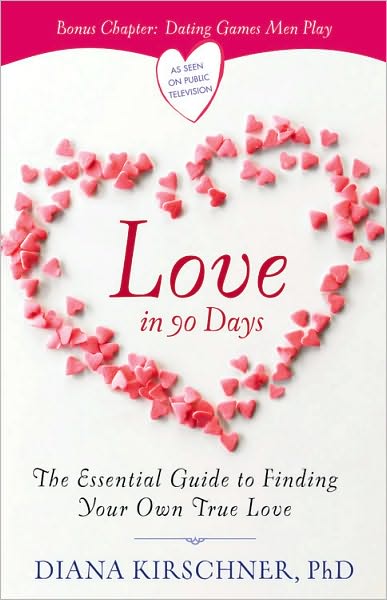 Received from the publisher for review.

The author is obviously upper middle class and the book is intended for women just like her. The book is really only for the "I must be married with children to be happy" crowd. Think Charlotte from Sex and the City. Fans of The Rules should enjoy it.

The author includes such suggestions as how you must make over yourself to get a man:


Most men like soft, longish, touchable hair and makeup that is not too obvious or overdone.
The author essentially wants you to transform yourself into a
Playboy
centerfold (complete with the full time commitment that it takes to achieve and maintain) in order to score a husband and become a
Stepford
wife. As you know, I have nothing against
Playboy
at all, but you should want to invest all that time, energy, and money for you, not for anyone else.
The most horrific section was for challenging cases such as "College-Educated, Professional, and/or Successful Women". No, really. Apparently it is still 1954 in her world. The author believes that "Men prefer to marry down." According to her statistics, I have a 75% chance that I'll marry due to my education level. How do you even respond to that? The author also recommends that you attend college to score a guy. No, really. Not for the education, but to make yourself more marriageable! She ends the section with this gem:
As we've shown throughout this section, study after study has concluded that education is becoming less of an impediment to both motherhood and marriage.
This one gets two stars. I was not impressed. The author's assertions that you are not good enough as you are and that you need to mold yourself into something else to find "love" were cringe worthy at best. There were several times I actually felt queasy while reading her propaganda. If you have any self respect
at all
don't read this book. It's not for anyone who would like to remain in a
Stepford
-free state. I'd rather be Agatha Raisin any day over the clones this woman wants to make women into.
★
★
☆☆
☆
= Didn't Like It