From Mayo Clinic, a leading authority on health and nutrition, comes The Mayo Clinic Diet, the last diet you'll ever need.

Get a quick and gratifying start with Lose It!, the phase of the diet designed to help you lose up to six to ten pounds in just two weeks. Eat the foods you love – in moderation – in the Live It! phase, which is designed to help you continue to lose one to two pounds a week
(and keep them off!!)
.

Finally, here's the diet that helps you accomplish real and lasting weight-loss. This diet is no fad, but a solid, common-sense approach brought to you by an organization that is an award-winning health information resource. Nor does
The Mayo Clinic Diet
require expensive ingredients (which can make a diet difficult to maintain in the long run).

Through simple, healthy adjustments to your lifestyle,
The Mayo Clinic Die
t gives you the tools you need to achieve the success you want. In two easy phases,
The Mayo Clinic Diet
helps you lose weight and keep it off for life.
Lose It!
– a two-week quick-start program designed to help you lose six to ten pounds simply by:
• Adding 5 habits
• Breaking 5 habits
• Adopting 5 bonus habits
Live It!
– continue to lose one to two pounds a week until you reach your desired weight – and then maintain it by:
• Using the Healthy Weight Pyramid as your guide to the most nutritious food groups and serving sizes.

In two simple phases, you'll be on the road to a healthy weight for the rest of your life. Packed with lots of extra encouragement – meal planners, recipes, tips for overcoming challenges, starting an exercise plan, and much more –
The Mayo Clinic Diet
gives you everything you need in one book.

Toss out the scales and the calculators and pick up the foods you love.
This is the diet you've been waiting for!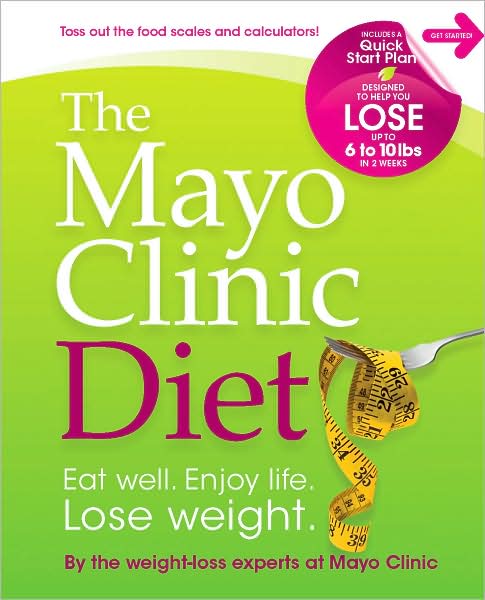 Received from the publicist for review.
I love self help books the way some people love romances or science fiction. I just devour them.
This quote from the book says it all:
This is a program that helps you make simple, healthy, pleasurable changes that will result in a weight you can maintain for the rest of your life.
The book is nicely divided into clear sections: Part 1 - Lose It!, Part 2 - Live It!, Part 3 - All the Extra Stuff.
This was a beautiful, colorful, happy book with a very positive feel. It was stuffed with all sorts of great tips, ideas, and suggestions. The tons of great pictures illustrate typical portions versus what a single serving size should look like were great. The people pictured were also actually normal looking and not fitness models, which was refreshing.
I love my Parmesan cheese, so it was good to note that 1 serving (or 110 calories) is 1/4 cup of grated Parmesan! Yea!
This one gets five stars. It is by far one of the most comprehensive, most user-friendly diet books I've read. It is truly a volume you can return to again and again. And, even if you choose not to follow the diet there are so many healthy living and eating tips included that everyone can find at least a few new things to implement in their own lives.