Nappa novels offer action-oriented storylines with intensely fascinating characters moving through circumstances inspired by real-life historical events. Nappa novels are page-turners that inspire readers to seriously consider how they might live lives worth living. His novels are never didactic, but are crafted with an inspiring undercurrent that motivates the reader to think, feel, believe and dare.

With Hearts Courageous tells the story of enigmatic Sir William Hillary, founder of the National Society for the Preservation of Life after Shipwreck. Despite several bold achievements, his life as the philanthropic Baronet ends impoverished with barely a vestige remaining of his founded organization. Amazingly, his legacy survives and his organization thrives today with thousands upon thousands of saved and aided lives.

With his trademark flair for exciting physical action and a keen eye for capturing a sense of time and place in history, author/screenwriter Jon Nappa has once again crafted a page-turner about a real-life historical figure whose story has much to say to all who seek to live a life filled with purpose.

The first book of this series, Into the Storm, introduced us to the world of hard-edged sailors in poverty and pubs, the style akin to a mix of colorful Dickensian characters thrust into the thrill of a modern action film. With Hearts Courageous lives mostly in the world of the rich and finely adorned and resembles a mix of the Bronte sisters' world of fashionable ladies and respectable gentlemen. Nappa thrusts this fully developed ensemble of characters into an adventure story driven by the indomitable spirit of a real-life Robin Hood.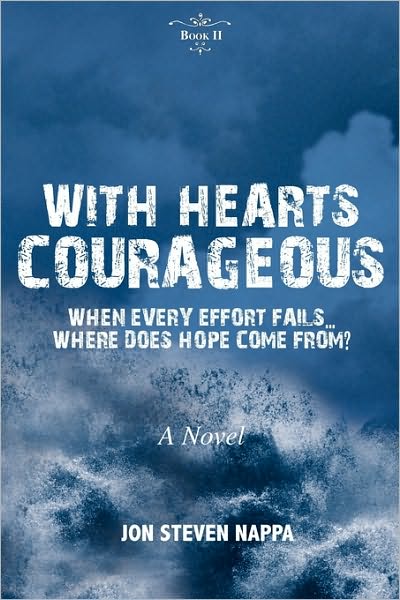 Received from the publisher for review.

The author noted in the book that the Royal National Lifeboat Institution makes 25 life saving rescues daily and has saved over 135,000 lives since its inception over 175 years ago. Wow!

This one gets three stars. It was a fascinating story, based on real events, which made it just that much more intriguing. It was very well written historical fiction, with great descriptions of the people and places, that made you feel as if you were right there along with the characters. The nautical terms could be a bit annoying at times though.

★★★☆☆ = Liked It