Pam Jenoff, author of the book Almost Home, stopped by to share with us a piece she wrote. And, by the way, she's an absolute sweetheart! :)


---
Foreign Waters: The Experience of Publishing Abroad

England has always been my favorite place in the world – even years before I ever got to go there. Like Jordan, the protagonist in my latest novel, ALMOST HOME, I had a childhood imagination filled with the British mystique of Disney films and Dickens books, cockney accents and gray sooty skylines. When the chance to go to graduate school at Cambridge on a full scholarship fell into my lap, it seemed as though all of my dreams had come true. The reality, as it turned out, was even better than I expected: the two years living among the stone courtyards and cathedral spires, making friends and having the experiences of a lifetime, were among the best I have known.

So I was very happy to learn, more than a decade after I returned to the States, that my first novel, THE KOMMANDANT'S GIRL, would be published in the United Kingdom. "It looks like we're going to do well in Britain," my agent said weeks before publication, and I received the news with the vague happiness of a new author, not quite sure what it meant. I gladly accepted an invitation from my publisher's London office to come over for a visit at the time of the book's release. But I certainly did not expect, upon landing on the ground there, to be confronted with the news that we had hit the U.K. Top 50 Chart. I was now officially, "an internationally bestselling author."

Though my books have since been published in eight or nine different countries (or maybe more – I never quite know until a few copies of a foreign edition show up on my doorstep, months or sometimes years after publication), the U.K. remains my bestselling market by a long shot. It's a fascinating experience, as publishing overseas is different than in the U.S. in so many ways. (I'm using the U.K. as the basis for comparison here, since that is the overseas market with which I'm most familiar; things surely vary elsewhere.) First, the covers are not the same; for example, the British book jacket for KOMMANDANT'S GIRL (they dropped the "The" from the title) had an image of a woman kissing a Nazi with a big swastika emblazoned on his sleeve -- something which never would have worked in the U.S. but took off quite well over there. And sometimes the titles are changed entirely: ALMOST HOME will be released next month in Britain as THE OFFICER'S LOVER. The U.K. publishers just have a sense that different things work to sell a book there and it seems that they are almost always right.

Marketing and publicity are different too. Book signings and tours are far less prevalent, unless you are J.K. Rowling or Stephen King. Instead, radio interviews on various stations including the BBC are popular. Supermarket chains, such as ASDA and Tesco, are a far more important venue for selling books than they are in the States. And there seems to be less emphasis on the pre-publication reviews that we have here, such as Publisher's Weeky and Kirkus, and a shorter lead time to produce a book; in some cases my books have come out months earlier in the U.K. than the U.S. (a really strange dynamic that results in lots of American friends pressuring me to bring back British editions so they can get an early read.)

There are challenges to publishing in a foreign country too. I think the British book trade can be wary of the influx of books from the States, and a few readers who post online reviews seem to have a particular brand of bile for American authors they dislike or whose writing about things English they perceive as inaccurate. (I always take a sound drubbing on this, no matter how many British friends and editors review my work before it is published.) A handful of my beloved Cambridge friends can sometimes be a tad snobby about my books, which they see as too commercial. And it can be hard too navigate the murky world of foreign publishing from such a great distance away.

But despite the occasional speed bump, the U.K. remains one of my very favorite venues in which to publish. The editors and other publishing folks who guide me through the process over there are brilliant and relentless in their promotion of my work and their efforts have paid off mightily. The readers who do like my work are as passionate as any I have encountered elsewhere and I love receiving e-mails and letters from every corner of Britain. And there's nothing more fun than strolling around London, popping into each bookstore to visit my books. Being whisked around my favorite city in the world in a black taxi on my way to an interview, I feel like that bright-eyed student again, arriving from America for the first time, pinching myself in disbelief once more.
---
About the book: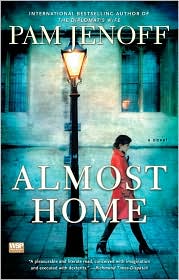 From bestselling author and Quill award nominee Pam Jenoff comes a rich, ambitious, and startling novel about a woman who must face a past she'd rather forget in order to uncover a dangerous legacy that threatens her future.
Ten years ago, American Jordan Weiss's idyllic experience as a graduate student and coxswain at Cambridge was shattered when her boyfriend and fellow crewmember, Jared Short, drowned in the River Cam the night before the biggest race of the year. Since that time, Jordan, a State Department intelligence officer, has traveled the world on dangerous assignments but has managed to avoid returning to face her painful memories in England. When her terminally ill friend Sarah asks her to come to London, though, Jordan finds herself requesting a transfer to the one place she swore she'd never go again.
In London, Jordan attempts to settle into her new life, pushing aside her haunting memories and taking on an urgent mission beside rakish agent Sebastian Hodges. Shortly after her arrival, just when she thinks there's hope for a fresh start in England, she is approached by a former college classmate who makes a startling assertion. He tells her that Jared's death was not an accident, but that he was murdered.
Jordan quickly learns that Jared's death was indeed not an accident, and that his research on World War II had uncovered a shameful secret. But powerful forces with everything to lose will stop at nothing to keep the past buried. Soon, Jordan finds herself in grave peril as she struggles to find the answers that lie treacherously close to home, the truth that threatens to change her life forever, and the love that makes it all worth fighting for.
---
About Pam:
Pam was born in Maryland and raised in southern New Jersey, outside of Philadelphia, Pennsylvania. She attended George Washington University in Washington D.C., where she earned a bachelor's degree magna cum laude in international affairs, with minors in history and Japanese. She then received her master's in history from Cambridge University in England.
---