February 18, 1979. The Daytona 500. It didn't look like anybody would catch Cale Yarborough or Donnie Allison, not even the great Richard Petty. Then, on the final backstretch, the bumping started. Yarborough cut low, trying to pass Allison. Allison dug in and pushed Yarborough into the infield dirt. What happened next, live on national television, changed everything for NASCAR- a spectacular collision and one of the wildest finishes in sports history.

He Crashed Me So I Crashed Him Back is the story of one of the roughest and rowdiest seasons in racing, before NASCAR was a big-money spectacle. At the center of all the fistfights, rivalries, and frenzied finishes were men who strapped on their helmets and risked their lives to drive fast: Darrell Waltrip; the Allison brothers, who found themselves on the front pages of major newspapers after brawling with Yarborough at Daytona; and the King, Richard Petty, who overcame health problems, a forty-five race losing streak, and behind-the-scenes family drama to win the season series. And, of course, there was a twenty-seven-year-old rookie named Dale Earnhardt making some noise...

Drawing on original research and interviews with drivers, crew chiefs, fans, and owners, acclaimed Sports Illustrated journalist Mark Bechtel paints a stirring chronicle that brings into vivid focus the most important year in NASCAR history. Rollicking and full of larger-than-life characters, He Crashed Me So I Crashed Him Back is the remarkable tale of the birth of modern stock car racing.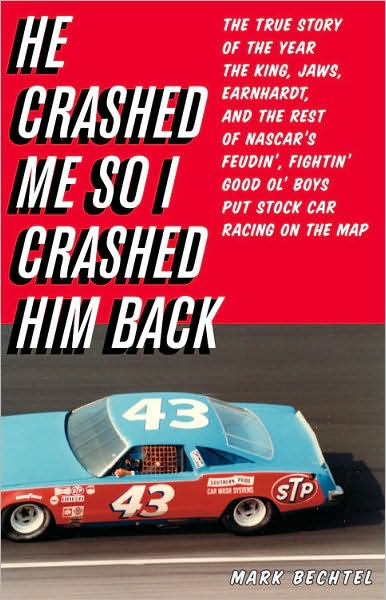 Received from the publisher for review.

I don't normally do NASCAR, but this looked intriguing. You really got a sense of the people involved as real people. Although I didn't personally identify with the vast majority of the book, it was interesting nonetheless – not in the least because it was a true story. The crazy egos of the drivers reminded me of rock stars. It was cool to read about Paul Newman being a driver in 1979 though.

As a perk from reading the book I finally discovered what those stupid spoilers are for:


A spoiler is a metal strip on the trunk that keeps the back end of the car on the track. A small spoiler reduces drag and makes the car faster, but it does so at the expense of stability.
This one gets three stars. It was quite readable, even for a NASCAR newbie like me, and well written. Some of the terminology could be a bit overwhelming, and most of it was beyond me, but it didn't detract too much from the flow. I certainly recommend this to NASCAR fans.