Prepare to fall for Lumby.....

What Garrison Keillor did for Lake Wobegon, Gail Fraser has done for Lumby in this delightfully touching new novel. An engaging cast of characters populates Lumby, a one-moose town in the Pacific Northwest where pigs literally fly and goats invade the bank vault, a dog runs for mayor (and wins!) and Sheriff Dixon keeps a gentle watch over all the quirky goings-on.

Arousing the suspicions of the townsfolk of Lumby, Pam and Mark Walker, a couple of "East Coasters" purchase the community's fire-ravaged and neglected monastery, intent on converting it into a historic inn and regaining it's Historical Register status. With the aid of the sometimes helpful, often humorously hapless local tradespeople, the Walkers begin their renovation project, while trying to unravel the town that is Lumby. Facing the open hostility from the cranky old newspaper publisher, the newcomers attempt to 'fit in' and piece together the mysteries of the benefactor who leaves unsolicited checks in old journals and the flamingo in their front yard with a flare for fashion.

It doesn't take them long to realize that the local paper, The Lumby Lines, provides many of the answers. The daily "Sheriff's Complaints" column reveals many of the town's foibles and benign mayhem, and introduce Pam and Mark to some of the more colorful locals, while the young reporter of the weekly, "What's New Around Town" feature longs to land the big "expose", but somehow never gets it right. Despite the setbacks that occur, Pam and Mark's commitment to the inn and the town never sways.

As the previous tenants of the monastery assist the Walkers in learning its history, the intrigue builds and romance blossoms, and they unknowingly discover long-hidden relationships which lead to unexpected reconciliations. Joining in the annual Lumby Raft Race ensues, Pam and Mark find themselves in the middle of a near disastrous scenario, and the people of Lumby learn the true nature of their newest residents.

The LUMBY LINES paints a picture full of laughter and love that readers will take to their hearts-and conjures up magic in an everyday place called Lumby-setting the stage for more charming stories to come.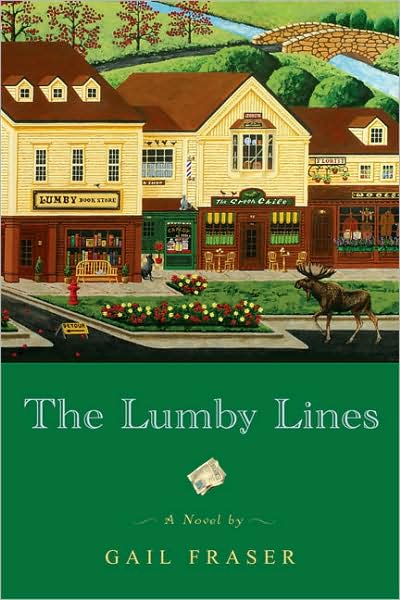 Received from the publicist for review.
This one gets three stars. It was amusing with a
Northern Exposure
small town life feel to it. It was especially nice to read about a small town not in New England to prove that we don't have a monopoly on quirky small towns a la
Gilmore Girls
and
Murder She Wrote
. The cute articles from the local paper, T
he Lumby Lines
, really added to the story. The
Sheriff's Complaints
were extra fun. This was a nice, solid start to the series, with fun characters and a nice setting. It is definitely recommended for someone looking for a lighter, happier fiction.