The Risk Takers is about ordinary people, all with good ideas, who faced daunting challenges, but took a leap of faith and started their own business. The book tells the stories of the personal and professional journeys of sixteen fascinating men and women who built hugely successful, multimillion dollar companies. They started with very little, opted to strike out on their own, and struggled with disappointment and failure. Yet, they overcame adversity and through persistence and resiliency determined their own destiny.

You'll meet the founders of companies familiar to most Americans: Geek Squad, Curves, Liz Lange Maternity, Kinko's, Paul Mitchell, Spanx, Amy's Kitchen, along with nine others. Don and Renee Martin, successful entrepreneurs in their own right, personally interviewed these men and women whose inspiring stories demonstrate it's never been easy to start your own business and navigate it through all the inevitable storms to ultimate success—in any economy, in any era. But can be done.

The personal stories in this volume remind us of what is possible when you combine an inspired business idea with faith and tenacity. It's the right book at the right time—it's time to resurrect The American Dream.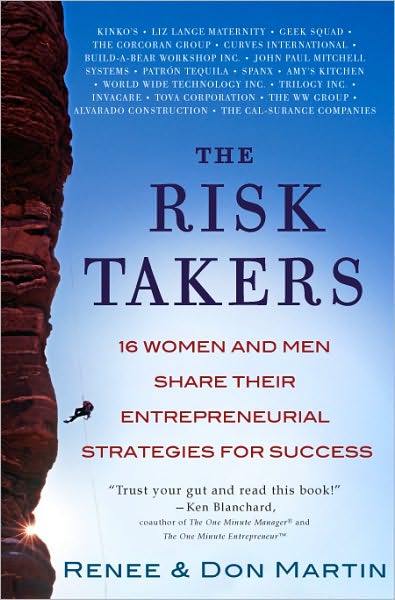 Received from the publicist for review.

I have to admit, I was a bit put off by the authors being multimillionaires. I mean, really, what do they know about the real world now when they made their millions during the 80s boom? I also found it extraordinarily arrogant for the author to tell his own story as part of the book.

This one gets two stars. The selection of entrepreneurs was questionable considering most of them were kind of slimy with a used car salesman feel to them. I didn't find the book inspiring in the least. One of the entrepreneurs profiled – Liz Lange – grew up in the lap of luxury on New York's Upper East Side. I can't fathom how her story was supposed to be inspirational to the average person. This collection of profiles was unrealistic, and uninspiring and struck me more as a group of rich people bragging about their success than anything. It is completely unrealistic for the average person to apply the outdated techniques suggested, so unless you're already upper middle class or above, don't bother with this one.