IF SUPERMAN NEEDED A COACH,HE'D HIRE MICHAEL NEILL! In this fun, easy-to-read book, best-selling author and internationally renowned success coach Michael Neill shares the secrets of transforming your life and the lives of the people you care about most—your family, friends, colleagues, and clients.Inside, you will learn:· How to stop thinking like a victim· The secret to financial security in any economy· Proven techniques to produce dramatic changes in yourself and others· Simple ways to create lasting relationships· The key to lifelong happiness· Strategies for increasing productivity, energy, well-being . . . and more!Whether you want to powerfully impact the lives of the people around you or simply wish to create a deeper, more meaningful experience of being alive, this book is your essential guide to helping yourself and assisting others.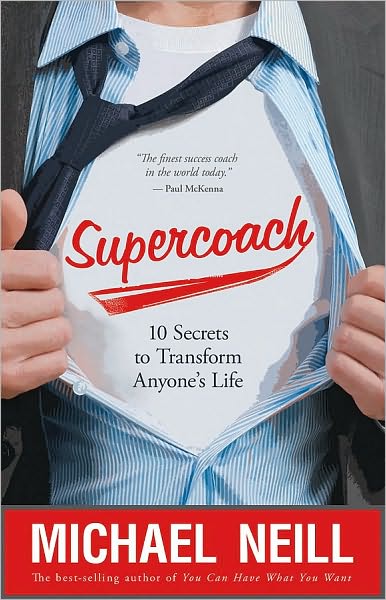 Received from the publicist for review.

My favorite quotes from the book were:
You are a diamond, buried in horse crap, coated in nail polish.

The number of reasons you have for doing something is inversely proportional to how much you want to do it.
This was clear, concise, and well presented. The Supercoaching Tips and In a Nutshell tidbits helped to reinforce the text which had an amusing supportive feel reminiscent of Tony Robbins.
This one gets four stars. While it may take a while to work through all the material presented and do all the exercises, it is well worth the investment. The author provides a plethora of information that has worked for his clients and the reader can model his or her life after their successes. This is certainly recommended as a great first step in the direction of one's goals.
★★★★
☆
= Really Liked It