With 70 million fans, NASCAR is the #2 spectator sport, after football. But unlike football, going to a race is a full weekend of events. From the tailgating, to the qualifying, to the checkered flag and post-parties--there's enough to fill several days at every event, and that's just at the track.

Liz has maximized her personal connections with NASCAR insiders to determine what NASCAR fans really want to know when visiting the tracks, and gives practical answers to the most frequently asked questions, including:

-- What to do in a medical emergency, and area hospitals with emergency care,
-- Area attractions beyond the track, including popular golf courses where you might just spot your favorite driver between races,
-- Where to find veterinary services for the furry four-legged members of your family, and much more!

From dining, to shopping, to lodging, not to mention what to wear and pack (and what not to) this is a practical guide that no NASCAR fan should be without!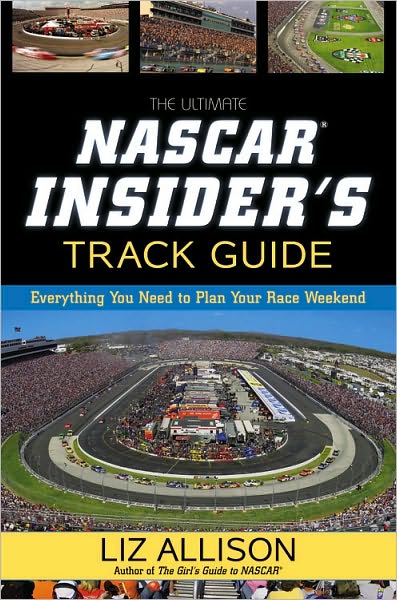 Received from the publisher for review.
If you're a NASCAR fan, you simply do not want to leave home without this comprehensive guide. It's the Fodor's of NASCAR. It covers everything you could possibly think of, and more.
Each track has its own section with all relevant contact details and pertinent information, as well as listings of what to bring, where to stay, and where to eat while you're there.
While I was glancing over the items not allowed in most tracks (reasonable items such as umbrellas in the stands, glass containers, etc.) I discovered that several tracks do not allow firearms. Seriously, does that even need to be said? I've never been to a NASCAR event – the closest I've ever been is a trip to Fenway or Shea and really, no one there needs to be told not to bring firearms. Hello!
This one gets five stars. This amazing guidebook is simply packed with essential information for both new and seasoned fans. It is beautifully well done and makes for an excellent resource. Seriously,
do not leave home without this book
! It would also make a lovely gift for the NASCAR fan in your life.