Why should non-diabetics get informed? Because as much as we know about diabetes treatment today, the support from our family and friends still plays a part in how healthy we are. An understanding approach from someone who cares means everything to us.

Your diabetic friend or relative counts on you to be the person in their life that "gets it" when no one else does. This book will tell you what you can do to help. Things like what you should (and shouldn't) say, what you should learn to truly be supportive, and even how you can help in the fight for a cure.

21 Things You Can Do To Help Someone With Diabetes will point you in the right direction so you can truly support your diabetic friend.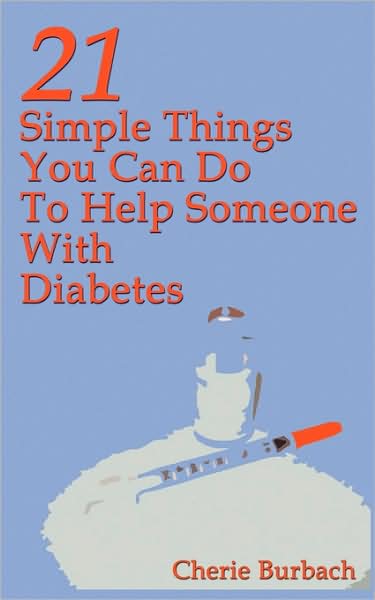 Received from the publicist for review.

As you may know, my mom had Type 2 diabetes and passed in 2007 from complications due to it so I'm quite educated about diabetes and I thought this might be an interesting read. I was wrong. Essentially the author wants the reader to become a babysitter for the diabetic friend or relative and to put your needs on the back burner.

This one gets two stars. I had a tough time connecting with the author after she began speaking about diabetes as if it is a death sentence on par with AIDS. Um, hello! I was also unimpressed by the author's recommendations for friends and family to keep special sugar free sodas and juices on hand for the visiting diabetic. The author conveniently forgot to mention the health effects of these artificial sweeteners she is advocating which I found incredibly disturbing. I was not impressed at all by the author's very pushy and preachy attitude. This is for the extremely ignorant who still call diabetes "a touch of sugar".
★
★
☆☆
☆
= Just Okay