From bestselling author Anne Rice, writing as A.N. Roquleaure. In the traditional folktale of 'Sleeping Beauty,' the spell cast upon the lovely young princess and everyone in her castle can only be broken by the kiss of a Prince. It is an ancient story, one that originally emerged from and still deeply disturbs the mind's unconscious. Now Anne Rice's retelling of the Beauty story probes the unspoken implications of this lush, suggestive tale by exploring its undeniable connection to sexual desire. Here the Prince reawakens Beauty, not with a kiss, but with sexual initiation. His reward for ending the hundred years of enchantment is Beauty's complete and total enslavement to him…as Anne Rice explores the world of erotic yearning and fantasy in a classic that becomes, with her skillful pen, a compelling experience.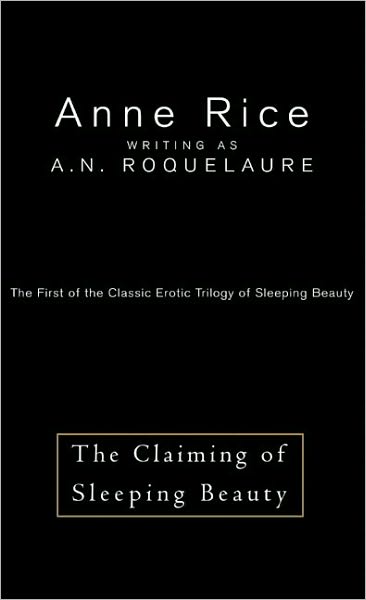 From my personal collection.

I hadn't read this since my porn overdose days in college (and really, this is porn, in the best possible way) and after seeing several unflattering reviews lately I decided to dig it out of my shelves, dust it off, and give it another read.

I did find it a little disturbing that the character of Beauty was supposed to be 15. I mean, really? I decided that I'd just think of her and the Prince as a bit older and continued with the story.

This is NOT for the faint of heart. There is S&M, M/F, M/M, F/F, and sex of every sort of variation discussed very frankly. If you don't know what the abbreviations mean, pass on this.

This one gets three stars. Despite the disconcerting age issue the book is, as with all the author's books, beautifully written. It is completely engrossing and you become immersed in the fantasy. And it is a fantasy. Trying to make it conform to our world is disrespectful of the author's effort and craftsmanship and the obvious care she invested in its creation.