Meet Kathryn Borel, bon vivant and undutiful daughter. Now meet her father, Philippe, former chef, eccentric genius, and wine aficionado extraordinaire. Kathryn is like her father in every way but one: she's totally ignorant when it comes to wine. And although Philippe has devoted untold parenting hours to delivering impassioned oenological orations, she has managed to remain unenlightened. But after an accident and a death, Kathryn realizes that by shutting herself off to her father's greatest passion, she will never really know him. Accordingly, she proposes a drunken father-daughter road trip. Corked is the uncensored account of their tour through the great wine regions of France. Uproarious, poignant, painfully introspective, and filled with cunning little details about wine, this is a book for any reader who has sought a connection with a complex family member or wanted to overcome the paralyzing terror of being faced with a restaurant wine list.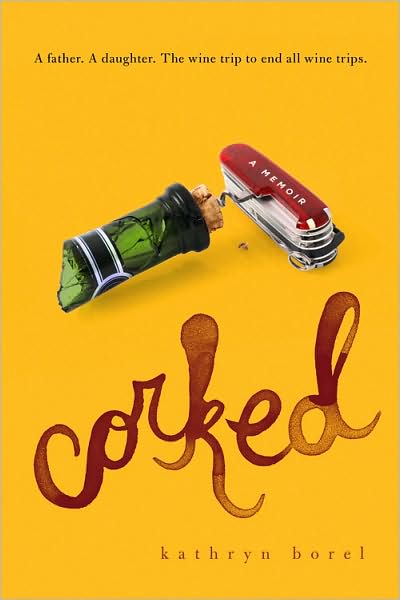 Received from the publisher for review.
This one gets three stars. While the book was nicely written with an overall friendly feel I just wasn't feeling it. Don't get me wrong, it was a good enough book, but it just didn't do much for me personally. Perhaps this was due to the fact that I didn't particularly like the author as a person. I also didn't quite grasp why someone barely thirty years old wrote a memoir. It just struck me as odd. I did find many of her stories interesting, and the chapters were nicely sized for easy breaking. Perhaps if you are really into memoirs this would be for you.