Like the rest of his family, Louis is a trumpeter swan. But unlike his four brothers and sisters, Louis can't trumpet joyfully. In fact, he can't even make a sound. And since he can't trumpet his love, the beautiful swan Serena pays absolutely no attention to him.

Louis tries everything he can think of to win Serena's affection — he even goes to school to learn to read and write. But nothing seems to work. Then his father steals him a real brass trumpet. Is a musical instrument the key to winning Louis his love?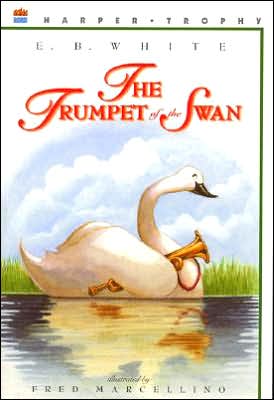 Borrowed from my aunt.
This was another classic that my aunt thought I would enjoy re-reading. Considering I didn't remember reading it the first time around I decided to give it a go.
This one gets three stars. It was a product of its time and wasn't politically correct at all, but it still managed to be rather good. If you can explain to you child the politically incorrect parts it may be worth a read, but it should be supervised closely. For adults it is an easy read with an interesting premise and it is nice to revisit a classic.