For years, most cooks only worried about choosing between semi-sweet and milk chocolate when whipping up chocolate creations. These days, however, its vital to know the origins, varieties, and unique characteristics of chocolates available. The experts at Fine Cooking magazine have taken the guesswork out of making more than 125 scrumptious sensations from layer cakes, tarts, and pies to muffins, cookies, and brownies to candies, sauces, and hot cocoa. Each recipe features must-know tips on choosing and buying just the right chocolate; step-by-step, cant-fail instructions; and authoritative advice from Americas most respected experts. In other words, Absolutely Chocolate is absolutely fabulous!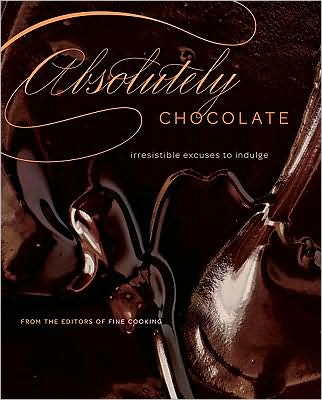 Ebook received from the publisher for review.
This one gets five stars. It was simply packed with recipes for everything from cookies to pudding and candies to brownies and cakes and everything in between. There were even instructions on how to cut brownies into perfect squares! Simply gorgeous photos illustrated each sumptuous offering and left me wanting to try out each. While the recipes are delicious, most aren't overly complicated and you most likely already have the majority of the ingredients in your pantry. This would make a lovely gift for a chocolate loving baker.
★★★★★

= Loved It