Is Discworld ready for educated rats?

Set in the Discworld, a brand new and marvellously eccentric fantasy tale for young readers.

Maurice, an amazing cat, who has survived four years on the toughest streets in the whole of the Discworld, reckons that rats are dumb. Clever, OK, but dumb. Maurice, however, is smart — smart enough to recognize that there's a new kind of rat around; rats that have been eating wizards' rubbish and can now talk. And Maurice is also smart enough to get a pretty amazing idea when he spots a kid playing the flute. Now he has his very own Pied Piper to go with his "plague of rats". And Maurice's money-bags are getting fuller and fuller. That is, until the group reaches the far flung village of Bad Blintz.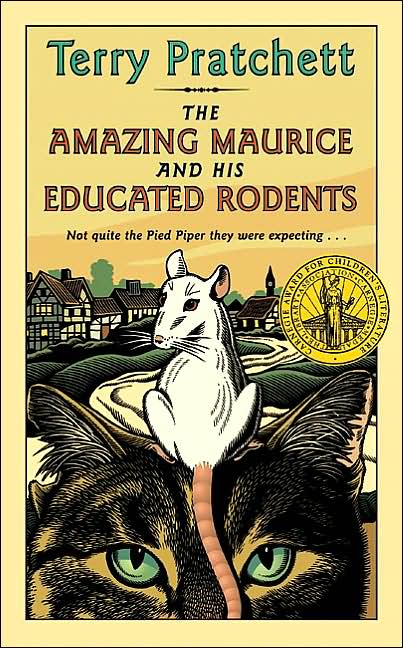 From the library.

This was my first experience with the author. The book was actually recommended by a friend who immediately insisted that I read it as part of my 2010 Cat Book Challenge. She was so enthusiastic about it that I decided to give it a go even though it was totally different from what I'd usually read. And heck, it's a challenge, so it's meant to expand your reading horizons!

My favorite quote from the book was:


A good motto in life, he'd reckoned, was: Don't eat anything that glows.
I especially loved the quotes from
Mr. Bunnsy Has an Adventure
at the beginning of each chapter.
This one gets three stars. Alternately sad and sweet, it was a nice story with important messages, and was extremely well done. I'm so glad I read it for the challenge, otherwise I never would have been exposed to it and discovered another great new to me author to investigate other works from. Pratchett fans will certainly enjoy this, but general fiction fans with an animal friendly bent will enjoy it as well.