Suzanne Beecher, author of the book Muffins and Mayhem, stopped by to share with us a Q&A she did with her publisher.


---
1. How did you come up with the idea for MUFFINS & MAYHEM?

Hundreds of readers email every day after they read my column at DearReader.com and tell me their stories. One of those emails was the inspiration for this book.

Dear Suzanne,

I have been following your Dear Reader column for several years now. I am so grateful you are willing to share with your readers a glimpse of your life, whether it's happy or sad. Let me introduce myself: I am a 43 –year-old mother of three children ages 8, 10, and 11. I have been diagnosed with late-stage metastasized lung cancer.

Knowing that I won't have the privilege of walking my three young children through their tough teenage years and adulthood, I want to prepare a scrapbook for each of them to fall back on when they are down and have no one else to turn to. When I was reading your column about the "writing inspiration" folder you keep, it strikes me to the core—that's exactly what I want to prepare for my kids. Something to inspire them to be the best person they possibly can, and to pick their spirits up on a rainy day when things feel out of control and they need to get themselves grounded again.

It would be greatly appreciated if you can share some pointers with me as to where to find these inspiring books, articles, quotes, etc. Thank you for your time!

Yours sincerely,
Priscilla

In my reply to Priscilla, I told her that some of the most precious things I own are the photo albums and recipe box that my Grandma Hale passed on to me. Whenever I thumb through the albums, or I'm following the recipe on one of Grandma's recipe cards, I feel like she's standing right beside me in the kitchen. It such a comfort, and the memories come flooding in. I suggested that Priscilla create recipe boxes for her children, including favorite recipes and stories. Write down on a recipe card the things from her life she'd like to pass along to them—recipes for their lives: how to make an impression on someone (give them an example of something she did)when it's okay to tell a fib and then tell them one of her little white lies. What's the best gift anyone ever gave her? What were the things that really scared her in life? How did she feel when they were born, when she was diagnosed with lung cancer and she realized the outcome?

Priscilla did make recipe boxes for her children and unknowingly, she left behind a gift for me, too. I didn't realize it until I wrote back to Priscilla, but for years I'd been creating my own recipe box, and the stories I discovered in it inspired me to write this book.

2. Which story in the book makes you happiest?

I reread this story when I need to get grounded. My mother told me the day before she died that what was really important in life was love. It was a strange sentiment to hear her convey because my mother had a hard time showing her love. But somehow at the end, she must have gotten a glimpse of what I saw and felt the other night.

It's four in the morning. Paul, my grandson, is in All Children's Hospital and I'm spending the night with him. There are four cribs in the room, each one has a baby in it, and there's a mom, dad, or grandparent like me sitting in the chair beside it. I've never been comfortable sharing a room with anyone, but this evening, even though we're all strangers, instantly there's a bond. Each one of us is hoping to hear good news when the doctors make their rounds in the morning. Each one of us is hoping nothing bad happens during the night.

There's a curtain in-between each baby's crib, but there's really no privacy. You can't help but overhear. Across the room a husky man is leaning over a crib whispering to his four month old daughter, "Don't worry honey, Daddy will always take care of you." And then he rings for the nurse, because Daddy's trying to figure out how to safely give his baby girl a hug. She just had a tumor removed from her brain and he doesn't want to hurt her. It's hard not to hear and it's even harder to hold back the tears. A doctor is trying to help the mother next to me understand why her newborn baby's brain didn't develop like it should and so her daughter will need a lot of special assistance when she's growing up. Then a nurse wheels the baby's crib out of the room, they need to do more tests. And the mother is left alone. I hear her crying.

Across the room from my grandson a mother is trying to sleep in the reclining chair next to her baby's crib. She brought her baby here from Michigan, because the doctors at the hospital where she lives kept telling her nothing was wrong. But she knew something wasn't right. And now she's been told that her new baby boy can't hear or see, and won't be able to do much of anything except "be." But simply "being" is plenty for this mother to love. She's hoping to be able to take her son home in a few days so his brothers and sisters can get to know him.

My grandson is finally asleep and I lay him back in his crib. I'm tired. The days and nights are long in the hospital. But tonight I'm at ease. The doctor says in a couple more days we'll be taking home a healthy boy. I felt a little guilty hearing such good news.

I've always thought my job, my purpose here on earth, certainly must be something more dramatic than simply loving and taking care of the people around me. So I've strived to be clever, artistic and talented in business. But as I sit here at four in the morning looking around the room and looking at my grandson, I realize I've been looking at life all wrong. It's not complicated, there's nothing to prove. My mother was right. It's really very simple. What's really important is love.

3. Which recipe is most comforting?

Not only does my Hot 'n' Sour soup bring comfort to me, it's my husband's all-time favorite. Even though I'd been making this soup for my husband ever since we were married almost 33 years ago, I never actually tried the soup until about five years ago. A friend of mind from Oregon came to visit and I knew his favorite soup was "Hot 'n' Sour, so to look polite at the table, I sampled some of my own creation. It was delicious! All those years I was afraid to try this strange-looking soup. Now I double the recipe because it keeps great all week long in the refrigerator.


4. Where is your favorite place to write?

I should never, ever, go to the market when I'm hungry. It can be disastrous. Everything looks so inviting to a hungry woman. When I walk into the market (my stomach growling) the first place I head for is the deli counter where they slice the meat and cheese to order. I take a number and wait patiently, but I don't mind because I'll be rewarded with the first slice.

"Is this thin enough for you, ma'am?" The clerk gently raises the corner of the sliced ham for my inspection and then the question my stomach's been waiting to hear, "Would you like to try a slice?"

It's a repeat performance when he slices my cheese and other deli requests. By the time I move on to another department, I've pretty much curbed my appetite and I can shop without fear of any hunger-induced impulse buys.

Another thing I should never ever do is go to the market without my notebook and pen. While I was waiting for my deli order to be filled, I felt the urge to start writing a column. But I didn't have anything to write on, except the butcher paper wrapped around my thinly sliced Baby Swiss. No complaints though, it was the perfect palette, quite inspiring really—a big wide open white space to write on. But when I went to check out and handed over the baby Swiss package to be scanned, I realized from the cashier's look that I'd better give her an explanation and fast!

"Don't worry, it's not a stick-up note," trying to smile and hold my hands where she could clearly see them, "I'm just a writer who forgot to bring her notebook and this is tomorrow's column."

When inspiration strikes it doesn't matter where I am. I need to find a way to start writing. I've even written copy with a tube of lipstick, when I couldn't find a pen. I do most of my writing in my sunroom where I'm surrounded by windows. I love it because I can look out at my flower gardens and my new wooden fence. The old fence was falling apart, so when author friends suggested I should buy something to celebrate and acknowledge the sale of my book, a new fence was my "Hip, hip, hooray! I sold my book," gift to myself.

I'm the kind of girl who needs a lot of variety, so sometimes I write in my screened in front porch, or sitting on top of my bed, or standing at the kitchen counter (because I'm baking while I'm writing). When it's an emergency writing situation—my mind doesn't want to work—or maybe the problem is Suzanne is simply being lazy, then I trick myself into thinking I'm not really working, just writing for fun. Emergency writing is done while sitting on the bathroom floor. Lucky me, I live in an historical home and my bathroom is pretty interesting.


5. You write a daily column for DearReader.com. How is writing a column different from writing a book?

When I'm writing the daily column, everything has to be wrapped up in 350-460 words—the ideal length. The DearReader.com online book clubs are designed to be a short 5-minute read, including my daily column. It's a challenge sometimes to write about something, hopefully make folks laugh or cry, pass along a heartfelt thought and wrap it all up neat and tidy in just a few words. Writing for a book—I can wander as long as the wandering is interesting.


6. How did you start DearReader.com?

It was the summer of 1999. My husband and I were working together in his software company. Most of the people who worked for him were stay-at-home moms, working part time from their homes, so they could be with their children. Frequently one of the moms would comment, that when her children were old enough she wanted to go back to college.

So one afternoon, when I heard the frustration in Cathy's voice about wishing she could go back to school, I asked, "Why wait? Your kids might not be going to school for three or four years, but you could start reading about whatever subject you're interested in right now."

Cathy was not amused. "Look Suzanne, I cook, clean, do school activities, take care of my children, and work part time for you. I don't even have time to shave my legs and you expect me to sit down and read a book!"

Good point. I guess I'd forgotten how little free time my husband and I had when our kids were young. In-between managing our businesses, trying to get kids off to school in the morning and then transport them to music lessons and sports afterwards, it was a real juggling act. So that evening when I was preparing our daily company email, on a whim I started typing in the first few pages of Tuesdays with Morrie, a book I'd just finished reading. The next evening I typed in a little more, continuing to send short installments with each company email.

Four days later, No Time to Shave My Legs Woman called. "I'm embarrassed to admit it, Suzanne, but I've been sneaking over to my computer late at night to see if company email showed up yet, because I'm hooked on the book."

So if sending part of a book, to a busy stay-at-home mom, could inspire her to add reading to her "to-do" list, what would happen if I sent daily book club emails to millions of people? And that's how my online book clubs at DearReader.com were born. (By the way, before I continue, I need to tell you that taking copyrighted material out of a book is illegal, which my loving husband pointed out to me at the time. I assured him it was for a small group of women and that's how creative ideas are born. But that still doesn't make it legal. Not to worry, I have permission for all of the books I use at my online book clubs today.)

I knew how to build a website and I could envision what the book clubs would look like, but how was I going to get permission to use material from published books? Silly, naïve me, I thought if I called a publisher they would call me back. When they didn't, I tried sending a fax and then an overnight letter. Finally it was my persistent dialing that reached a Random House executive. She decided to take a chance on my online book club idea. But a week later, when we were supposed to finalize things, my contact was gone—literally. The recording on her phone said she didn't work at Random House any longer, "Press one if you need further assistance."

So I had no choice but to begin again. Eventually I connected with someone else at Random House and I started getting permissions. I figured I could name-drop and easily get other publishers on board, too.
When that didn't work, I baked chocolate chip cookies and sent them overnight with a one-page letter. I realize a business letter and chocolate chip cookies might seem like strange bedfellows. But I loved to bake, and I needed to stand out, and who doesn't love a homemade chocolate chip cookie—like the kind Grandma used to make?

What a difference when I'd call a publisher the day after my package arrived, "Oh, you're the cookie woman! I'm sorry we didn't get back to you yet."

Today, eleven years later, over 375,000 people read at my Dear Reader online book clubs every day. I'm still baking cookies for publishers—because it's fun—and I bake for readers, too. Every month there's a Chocolate Chip Cookie Giveaway at the book clubs. Stop by, if you're name is drawn I'll bake and overnight two-dozen homemade cookies to your front door.

Sound a little crazy? Yes, but a little crazy means we have a lot of fun. When you sign up at one of my free online book clubs, in addition to test-driving great books (every Monday through Friday you receive an email with a 5-minute read) I write a daily column, and I give away other "crazy" items: bubble machines, heating pads for kitties that live in cold climates, vintage aprons, garage sale goodies, measuring cups, journals, and I've even shopped for socks for book club readers.

I invite you to join the fun at www.DearReader.com and if you like my style, you'll love my new book, Muffins and Mayhem: Recipes for a Happy (if disorderly) Life. Read a sample at www.MuffinsandMayhem.com get a signed book plate, and discover my "goodies" for book clubs that meet in person.


7. What makes a great book-club book?

Great books and variety. Every week, in each of our 11 genres we feature a new book for readers to sample. Also I think it's important for readers to have the opportunity to share feelings and ideas. Even at my DearReader.com online book clubs hundreds of people email in each day talking about the book or my column. Frequently I run an Email Bag—replies from readers that I share will all of the readers.


8. You had a tumultuous childhood and experienced many challenges – how did you not let it keep you down?

Even though my mother and I weren't close, one of the things that I got from watching her was the attitude that I could make it through anything. Somehow I picked up on that and held on tight to that belief.

9. What do you do when you're having a bad day?

When I'm having a bad day, it's time to do something for somebody else. I admit if it's a crummy day, I probably moan and groan and feel sorry for Suzanne—maybe even a little angry that something didn't go my way. But eventually I realize that if I'm going to "move-on" I need to get off my behind and do something. Do something for someone else, spend time with my grandchildren, or work in my flower gardens.


10. You've done it all – owned a restaurant, founded and published a business magazine, established a non-profit program to feed the homeless, home-schooled her youngest son, and created DearReader.com (just to name a few) – which accomplishment are you most proud of?

Homeschooling our son, Brian. He was and is a smart guy, (now 31 years old and very successful and happy with his life). But he's also bipolar and fitting into the school system's routine and ways to take tests and study didn't work for Brian. Homeschooling, and the one-on-one was just what Brian needed to succeed. I taught Brian at home from the fourth grade through high school. Reading was a challenge for Brian, so one of the first things we did was cuddle together on the sofa and I would read to him. We checked out so many books from the library at a time—so many that my husband would hide around the corner until we were out the door. Day after day, book after book, I would read to Brian, and finally one day, he wanted start reading to me. It still brings tears to my eyes when I think about the time Brian and I spent together.


11. What do you hope readers will take away from MUFFINS & MAYHEM?

It's a memoir that makes you laugh and cry and cook. My hope is that as people are reading the recipes and stories in my book, that they'll be reliving some of their own. People write books for all sorts of reasons, but I had two: I'd been writing a daily column for seven years (at the time) and I wanted to learn how to do something different—to challenge myself. And the other reason was that it had taken me such a very long time to finally learn to like myself and feel comfortable with Suzanne. From "Muffins and Mayhem" Chapter 20: Writing the Recipe for My Life: "I have just enough confidence in myself and just enough doubt to write about my worries and fears, to make fun of myself, and invite people to laugh along with me. Wouldn't it be wonderful if we could all feel comfortable enough to laugh at ourselves when we screw up? A laughter that stays with us, tucked away inside, instead of feeling shame? Hopefully when people read the words I write they'll go easier on themselves and find that soft place to fall."

12. If you were a recipe, which recipe would you be?

Skunk Beans

Why?

Because people are always curious about the name and find the recipe a little strange-sounding, but once they taste the Skunk Beans, it becomes their favorite recipe, too. I think I'm a little strange, in a fun sort of way and I think once people get to know me, most enjoy my company. At least I hope they do.


13. For your online book club (DearReader.com), you're known for not giving away books, but other fun items – what is the craziest thing you've given away?

In the middle of winter (burr. . .) I gave away heating pads to cats that lived in cold climates. My 18 year old cat, Rudy, loves to sleep on my computer or anything a little warm (he's an old guy who need to warm up his bones). I wrote a column about Rudy and invited kitties around the country to enter. Hundreds of cats wrote in. I've also shopped for cozy socks for readers. To enter, readers specified color, style and size and I went shopping for readers. I guess you'd say I was their own personal sock shopper. Bubble machines, garage-sale "finds" and of course I bake homemade chocolate chip cookies every month for readers and overnight them to their doors.

---
About the book and Suzanne: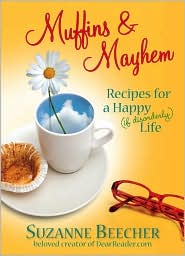 Pull up a chair and dig into this delicious dish of confessions and reminiscences from an everyday person who had big dreams. In
Muffins and Mayhem: Recipes for a Happy – if Disorderly – Life
(Touchstone; June 1, 2010), Suzanne Beecher, beloved creator of the hugely successful online book club DearReader.com, rediscovers her path to the present through a recipe box and opens her heart to her readers.
Raised in Cuba City, Wisconsin, boasting 2,000 people, with a firm appreciation for hard work, Suzanne recalls her own arduous childhood years followed by her evolution from single, drug addicted, teenage mother to successful businesswoman, mother, grandmother, and wife of her best friend – the man of her dreams. Tracing memories evoked by the recipes she loves to cook, Suzanne reassures us that with love and dedication even the most challenging obstacles will be overcome.
Muffins and Mayhem
was inspired by a reader who had been diagnosed with terminal cancer and was wondering how to leave a legacy to her children. Suzanne suggested a recipe box filled with memories and family stories. Helping this reader turned out to be a gift to Suzanne as well, and she decided to share the stories and recipes that help keep her grounded in today's unpredictable world.
Dished up with a healthy portion of hilarity; whether she's ironing the clothing her mother deliberately froze solid, being the only girl in an auto mechanics course, or getting her pearl chandelier earring stuck between her teeth while driving, Suzanne's personal tales remind us to take life lightly and enjoy our time with those we love.
So bake up some of Suzanne's blueberry muffins, pour a tall glass of tea and take some time to savor the days when all food was slow food and people came together to enrich the quality of each other's lives.
Muffins and Mayhem
is a ticket back home.
---