While Japanese and American forces fight mercilessly for control of the Philippines in 1945, two men, a Japanese infantry officer and an American P-51 fighter pilot, meet in a fearsome battle that leaves the Japanese officer dead. Half a century later, the fighter pilot's son, Frederick E. LaCroix, inherits the officer's bloodied, Kanji-inscribed Imperial battle flag, which was given to his father as a memento of his victory. The flag, coupled with his father's wartime correspondence, propels LaCroix on a six-year journey across eastern Asia to find the dead officer's family and return the flag.

The Sky Rained Heroes details the emotional true stories of two soldiers from vastly different cultures, their families, and the diverse paths that led them to their fatal meeting. Drawing from their actual wartime experiences, LaCroix crafts a unique and powerful narrative that brings the dramatic events of World War II to life and honors those who fought so bravely.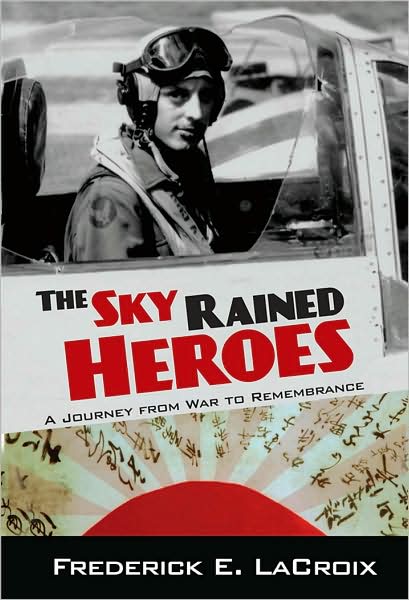 Received from the publicist for review.
The language in this could be a bit trying as the author was clearly expensively educated as evidenced by this tidbit:
Spurred by my father's wish and navigating by his letters and the flag, I traveled to Japan to unearth the identity and the surviving family of the last Japanese soldier.
This one gets two stars. Had the author tamed down the language and cut out a bit of the extraneous information, this could have been even better at 100 pages shorter. It was an interesting story, but really rather slow going at times when slogging through the letters which were typed in their entirety. This tediousness took quite a bit away from the quality of the work. The end result was a nice story, made even more touching since it was true. History buffs should find this intriguing.
★
★
☆☆
☆
= Just Okay