With its swirling cigarette smoke, martini lunches, skinny ties, and tight pencil skirts, Mad Men is unquestionably one of the most stylish, sexy, and irresistible shows on television. But the series becomes even more absorbing once you dig deeper into its portrayal of the changing social and political mores of 1960s America and explore the philosophical complexities of its key characters and themes. From Socrates, Plato, and Aristotle to John Kenneth Galbraith, Milton Friedman, and Ayn Rand, Mad Men and Philosophy brings the thinking of some of history's most powerful minds to bear on the world of Don Draper and the Sterling Cooper ad agency. You'll gain insights into a host of compelling Mad Men questions and issues, including happiness, freedom, authenticity, feminism, Don Draper's identity, and more.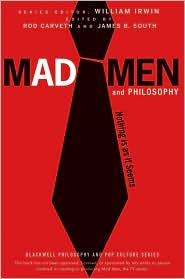 Received from the publicist for review.
Mad Men
is such a fun show so I was quite excited to review this book.
This one gets four stars. Despite the rather dense language that would be at home in a college textbook, the essays were intriguing and thought provoking. The look into our world's past compared to today was certainly enlightening. Who knew that a TV show could impart so much existential wisdom? This is recommended for the more intellectually minded
Mad Men
fans. It would also make a lovely gift for the
Mad Men
fan.
★★★★
☆
= Really Liked It