Fashionista and amateur sleuth Haley Randolph is in hot pursuit of the season's newest must-have handbag. But soon she's also in hot pursuit of a killer—when she discovers the corpse of none other than her designer purse party rival...
Life is beyond fabulous at the moment for Haley Randolph. She just spent two amazing weeks in Europe with her boyfriend Ty Cameron, owner of Holt's Department Store where Haley works. And now Ty's grandmother, Ada, is letting Haley drive her way-cool Mercedes. Things would be perfect if she could just get her hands on her latest fashion obsession: the new Sinful handbag.
Every store in town is out of stock, and Haley would rather die than buy a knockoff. But when she finds the body of her nemesis, Tiffany Markham, in the trunk of Ada's Mercedes, she's not so sure she wants to trade places after all...
Topping the list of suspects, Haley doesn't deny seeing red when Tiffany and her business partner not only stole her purse party idea, but also made more money. But Haley wasn't jealous enough to commit murder. Now she'll have to solve this mystery quickly—and find that Sinful bag—before she becomes a killer's next fashion fatality...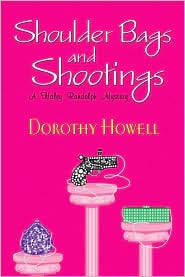 Received from the publicist for review.
My favorite quote was:
For some reason, Troy thought I moonlighted as the porn star Rhonda Rushmore. Honestly, I haven't done much to discourage this because she was, after all, a top rated porn star.
This one gets four stars. It had a great feel and pace reminiscent of a Janet Evanovich/MaryJanice Davidson hybrid. It was a fun, fast read and is the perfect nice, light mystery for beach reading. It is definitely recommended and I'll certainly be looking for the other books in the series!
★★★★
☆
= Really Liked It