The Knight Life is a hilariously twisted view of life through the eyes and pen of its creator, community-oriented urban hipster and award-winning cartoonist Keith Knight. The Knight Life deftly blends political insight and neurotic humor in a uniquely fluid and dynamic style, offering a comic strip that's fresh, sharp, topical and funny. Designed for daily newspapers, The Knight Life follows Knight's long-running, 2007 Harvey Award-winning weekly comic strip "The K Chronicles," which appears on salon.com.


An unabashedly provocative political and social satire, The Knight Life tackles contemporary issues like consumer culture, bacon, the media, race, family and everything else, gently mocking the minutiae of daily life with self-deprecating humor, honesty and goofiness-a combination that's perfect for the comics. And The Knight Life's energetic style reminds readers that comics can look funny as well as read funny. The result is accessible yet edgy, compassionate and political-and never preachy. Cartoonist and comic historian R.C. Harvey said, "The Knight Life is undeniably the best new laugh- and thought-provoker on the comics page. Not since Calvin and Hobbes has there been so novel an entertainment in the funnies."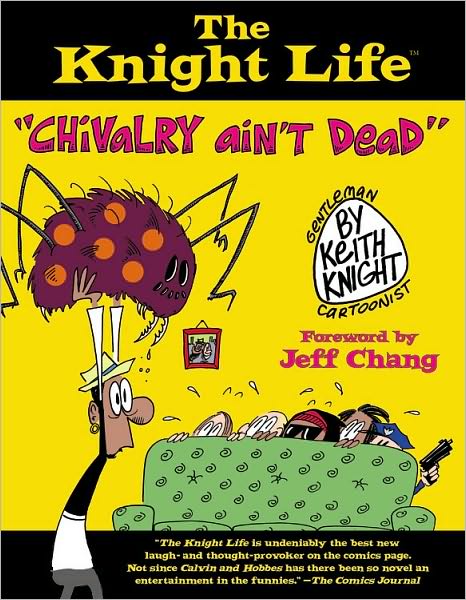 Received from the publisher for review.
I actually learned an interesting fact from the book that gay men aren't allowed to donate blood. Really? How random and bizarre. Not really an issue for me since I'm not gay or a man, and I faint at the sight of blood so I wouldn't be donating anyway, but still a thought provoking tidbit!
I did like the cartoon the tidbit came from on donating a pint of blood for every thee months the wary in Iraq is on (page 95). Again, not for me with the fainting thing, but still intriguing!
This one gets four stars. My favorites were the cookies strip on page 107, and the
Doctor Who
strip on page 145. This was my first experience with the strip and the author and I was really genuinely impressed. This would make a really funny gift for any comic strip fan and especially fans of this particular strip.
★★★★
☆
= Really Liked It