Dorothy Howell, author of the book Shoulder Bags and Shootings: A Haley Randolph Mystery, stopped by to share with us a piece (which I loved!) she wrote.


---
Hollywood Loves a Great Handbag
By Dorothy Howell,
Author of Shoulder Bags and Shootings: A Haley Randolph Mystery

Fashion is a major player in Hollywood. Wardrobe departments spend tireless hours perfecting the right "look" for their actors. Celebrity stylists live or die by the image they craft for their clients. Magazines and television shows devote themselves to photos and descriptions of celebrity clothing and accessories.

From the style and elegance of fashion icons such as Grace Kelly and Audrey Hepburn during Hollywood's Golden Era, to pics of celebs like Jennifer Aniston and Reece Witherspoon hitting the trendy L.A. shops, the public is fascinated by what they're wearing.

Regardless of current styles, situations or occasions, no actress or fashion icon would be caught in public without one indispensable fashion accessory -- her handbag.

This year's Oscar night saw pastels and bright colors, along with ruffles and trains, outside the Kodak Theater; most accompanied by a gorgeous clutch. The different shapes and sizes decorated with jewels glistening under the lights, made it the accessory to watch.

Anna Kendrick, a first-time nominee, carried a jeweled Judith Leiber clutch. Elizabeth Banks accessorized her Verace gown with a gray snakeskin and silver crystal clutch from Salvatore Ferragamo. Diva Demi Moore, ruled the red carpet with a gold leather envelope clutch, while Kate Winslet rocked an Yves Saint-Laurent silver satin bag. These Hollywood fashionistas proved nothing completes a red-carpet look like a handbag.

Yet for all their glamour and prestige, today's top handbag designers had decidedly unfashionable beginnings. Louis Vuitton made travel trunks in the 1800s, while Hermés crafted horse harnesses for Europe's aristocracy. Prada, Fendi, and Gucci were known for their leather baggage.

These houses made the jump to light speed, fashion wise, by looking into the future and adapting to changing times, and today they give us some of the most sought-after handbags in the world.

Purses aren't just another glitz and glamour accessory. Like all Hollywood beauties, the handbag is expected to work. Whether in a starring or a supporting role, the handbag is often in the spotlight.

Sarah Jessica Parker's character Carrie Bradshaw, on the Sex and the City television show, received a Judith Leiber handbag from Big. The cupcake purse by this famed designer made an appearance in the SATC movie. Samantha Jones, played by Kim Cattrall, ran afoul of Lucy Liu over a long awaited Birkin bag.

Ruth Buzzi turned her purse into a weapon and fought off her hapless, would-be attacker on Rowan and Martin's Laugh-In. A decades-old skit so funny it can still be viewed on YouTube.

Who can forget Jamie Farr's portrayal of Corporal Maxwell Q. Klinger and his desperate attempt to get discharged from the Army by dressing in drag on the long running television show M*A*S*H? He went about his duties wearing a dress, hat, gloves, high heels and, of course, carrying a handbag.

The style, glitz and glam of a Hollywood-worthy purse are available to the everyday fashionista. Retail, discount, and online stores abound. Be the star of your own show with the handbag of your dreams.
© 2010 Dorothy Howell, author of Shoulder Bags and Shootings: A Haley Randolph Mystery
---
About the book: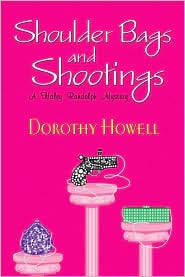 Fashionista and amateur sleuth Haley Randolph is in hot pursuit of the season's newest must-have handbag. But soon she's also in hot pursuit of a killer—when she discovers the corpse of none other than her designer purse party rival...
Life is beyond fabulous at the moment for Haley Randolph. She just spent two amazing weeks in Europe with her boyfriend Ty Cameron, owner of Holt's Department Store where Haley works. And now Ty's grandmother, Ada, is letting Haley drive her way-cool Mercedes. Things would be perfect if she could just get her hands on her latest fashion obsession: the new Sinful handbag.
Every store in town is out of stock, and Haley would rather die than buy a knockoff. But when she finds the body of her nemesis, Tiffany Markham, in the trunk of Ada's Mercedes, she's not so sure she wants to trade places after all...
Topping the list of suspects, Haley doesn't deny seeing red when Tiffany and her business partner not only stole her purse party idea, but also made more money. But Haley wasn't jealous enough to commit murder. Now she'll have to solve this mystery quickly—and find that Sinful bag—before she becomes a killer's next fashion fatality...
---
About Dorothy:
Dorothy Howell, author of
Shoulder Bags and Shootings: A Haley Randolph Mystery
, was inspired to write
Handbags and Homicide
by her crazed obsession with designer purses. She lives in Southern California, where there is, thankfully, no rehab program for handbag addiction, and is hard at work on her next Haley Randolph mystery. Visit her Website at
www.DorothyHowellNovels.com
.
Follow the author on
Facebook
.
---