At a time when animal species are becoming extinct on every continent and we are confronted with bad news about the environment nearly every day, Jane Goodall, one of the world's most renowned scientists, brings us inspiring news about the future of the animal kingdom. With the insatiable curiosity and conversational prose that have made her a bestselling author, Goodall-along with Cincinnati Zoo Director Thane Maynard-shares fascinating survival stories about the American Crocodile, the California Condor, the Black-Footed Ferret, and more; all formerly endangered species and species once on the verge of extinction whose populations are now being regenerated.
Interweaving her own first-hand experiences in the field with the compelling research of premier scientists, Goodall illuminates the heroic efforts of dedicated environmentalists and the truly critical need to protect the habitats of these beloved species. At once a celebration of the animal kingdom and a passionate call to arms, HOPE FOR ANIMALS THEIR WORLD presents an uplifting, hopeful message for the future of animal-human coexistence.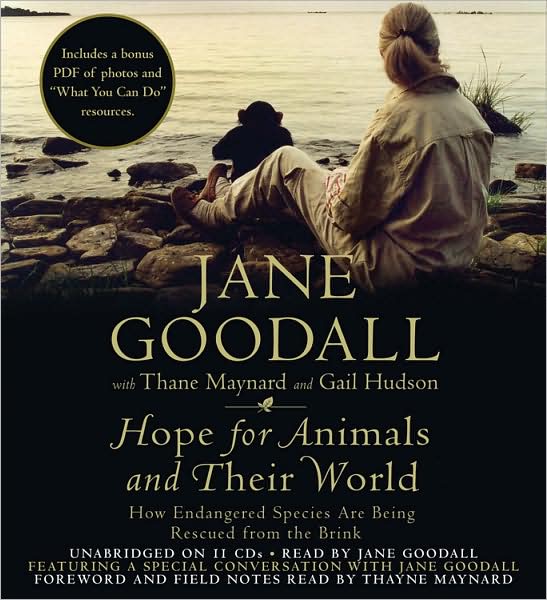 Received from the publisher for review.
I don't normally do animal related books as they are generally incredibly depressing but I decided to give this one a go nonetheless. Unfortunately the issues I had with the book stemmed not from the stories themselves, but with the reading. This was another prime example of why authors should normally not read their own material. The author's work is amazing, but the reading should be left to a professional. I actually found myself dozing off nearly every time I turned this one, which made for extremely slow progress.
This one gets two stars. It would have ranked as three stars had it not been for the unfortunate reader situation. The material itself was good but should certainly be consumed as a book and not an audio!
★
★
☆☆
☆
= Just Okay