"I am Iron Man." With those words, billionaire industrialist Tony Stark revealed his secret identity. Now a famous high-tech superhero, he uses his powers to protect mankind. Yet things are not going well for Tony Stark. The U.S. military demands control of the most powerful weapon on earth--the Iron Man suit. His beautiful new assistant has a strange, mysterious agenda while his best friend, Rhodey, has betrayed him. And Tony is hunted by a vengeful Russian criminal armed with a lethal technology that may be stronger than Tony's suit. But even as he fights his demons, the hero faces his greatest threat--one that no armor can defend against . . .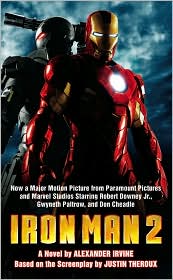 Received from the publisher for review.
This one gets three stars. While I hadn't seen the first movie, the is was still a good stand alone book. Granted, it is more of a "guy" book, but the characters are interesting and the plot made me want to see the movie. This is definitely recommended for Iron Man fans, as well as general adventure fans.
★★★☆☆ = Liked It