Deborah Duda, author of Coming Home stopped by for a Q&A.


---
1. What inspired you to write Coming Home?
The seed for writing Coming Home was a friend who was dying and whose husband forbade her friends to talk with her about it. I was furious. We go through the agony and ecstasy of being born, living our lives as best we can, and then are denied our dying and deaths, often by a conspiracy of silence. The most important thing in my friend's life at that time was her dying and her friends couldn't share that with her. She was isolated and alone as everyone pretended that she was not dying. I buried this experience in the back of my mind until after meeting Mother Teresa.
2. Tell us about your experiences meeting Mother Teresa.
In the 1970s, as many did, I looked to Eastern philosophy and religions as a source of wisdom and set off on a spiritual pilgrimage. At one point I was living in a tiny village in Nepal, where I lived happily until I began to have nightmares that I or my father was dying. After weeks of nightmares, a Sherpa (the mountain guides) walked three hours up the mountain path to my village and brought me a copy of Newsweek with a photograph of Mother Teresa on the cover.
That night I had a dream about Mother Teresa instead of about dying. I decided the way to get over my fear of dying was to put myself if the middle of it. I would go to Calcutta and ask Mother Teresa if I could work in one of the homes she created for the dying. The next day I packed my bag and made my way across Nepal and India, walking, taking buses and airplanes. When I arrived in Calcutta, I was very sick but I dragged myself to the public telephone, dialed O for operator and said, "I want to speak to Mother Teresa." Miraculously, she was on the phone in a few minutes and said "How can I help you my child?" I told her I'd had a dream about her and asked if I could come see her. She said, "Yes. Come right over my child."
I took a rickshaw to the Sister of Charity Convent where she lived. In her tiny office, seated across the desk from her, I had the feeling that I'd always known her and she knew me. I told her my story and asked if I could work in one of her homes for the dying. She said, "No my child. There is suffering and sadness around you at home. Go home and work with that."
And I did. I returned to live in the US for the first time in my adult life, completed a master's degree in psychology, became a counselor with her terminally ill, and wrote Coming Home.
3. You cared for both your mother and father when they were ill. What are some of your happiest memories with them?
I am so grateful that I had the privilege of helping to care for them when they were dying and was left with so many beautiful memories. Tender little moments come to mind. Sitting at my dying father's feet giving him a foot massage twice a day. Dad and his grandson playing with the dog we'd just brought home from the pound. The night Dad died, watching Mom peacefully holding him in her arms in the bed they had slept in together for 35 years and feeling that love had made their journey together worthwhile. My mother's death fills me with smiles and even joy. She chose where, when and how she would die and went out smiling and saying "bye".
4. Despite the hardship of caring for a terminally ill loved one, what can caregivers do to treasure the time spent with sick family or friends?
Take time to really be present for their loved one. Let go of busyness. There is nothing to do, nowhere to go, no one to impress. Probably the most important thing we can do for ill or dying loved ones is simply to be present for them with an open heart. Listen not only with our ears, but also with our hearts. Share family stories and memories, old photos, games, touch, music and silence.
Rumi, the 13th century Sufi poet and philosopher wrote "Step out of the circle of time into the circle of love." In the midst of a home dying, if we step into the circle of love, we are uplifted by giving love and feeling loved. Perhaps we can help the dying find meaning in their experience by suggesting that the most important thing a person can do is love. No matter what abilities or faculties they may have lost, they can still love.
5. How can people learn about joy while caring for a dying loved one?
Joy is part of our essential identity. We cover it up with fear, busyness, clinging to security, limiting beliefs about ourselves, and all our material and social concerns. When we're caring for someone we love, all our pretenses tend to drop away. Dying and death may strip us down to the core and at the core is joy. Dying loved ones remind us that love is the most important thing in the world, to live in the moment because we don't know how many moments we have and to be grateful for being alive. Lives lived with those understandings tend to be joyful lives.
6. For those who have experienced the loss of a loved one, what are some good ways to honor their memories?
We honor them best, I think, by living the positive things they have taught us in their lives and deaths, including the importance of loving, living in the moment and gratitude. You might ask yourself, "What can I give to others to honor that life?" A poem? Garden? Tree? Story? Sculpture? Donation? Endowment? It's important that we don't forget to honor them when they are still with us.
7. What do you hope readers will take away from Coming Home?
I want them to feel empowered, to know that they can handle a home dying. I want them to know that they are far more competent and loving than they perhaps imagined. I want them to know that the ultimate human freedom is freedom of attitude. That no matter what the circumstances of their lives, they can always choose their attitude and their attitude will determine the nature of their experience.
---
About the book: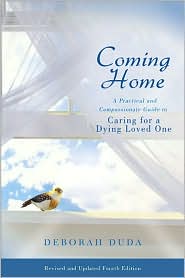 Today, in increasing numbers, terminally ill people are choosing to spend their last days at home in the warmth of familiar surroundings, rather than in an impersonal hospital or nursing home. Coming Home will provide you with information, inspiration, and sensitive yet straightforward answers to questions such as:
Can I handle a home death?
How do I deal with my grief?
Can we afford to stay at home?
Can I give an injection?
Can pain be controlled at home?
How do I prevent bedsores?
How can I find meaning in the dying process?
What do I need to know about legal issues?
First published in 1981, this groundbreaking step-by-step guide has been used to train hospice staff and volunteers for over two decades. Like a supportive friend sitting with you at the kitchen table, Deborah Duda helps you to create an experience that makes your loved one's final weeks as comfortable and meaningful as possible.
---
About Deborah:
Deborah Duda
earned a master's degree in psychology from Goddard College and has traveled the country delivering lectures and workshops on caring for dying loved ones. In addition to working as a family therapist for the terminally ill and their families, Duda also helped found a hospice and served on the board of directors for Kauai Hospice and the Kauai AIDS Foundation. For more information about Duda and
Coming Home
, visit
www.deborahduda.com
.
---